Hero in Disguise
October 30, 2013
We were all standing around the fire pit staring at the fire as the forest surrounded us. I look over to Lauren and the first thing I see is her long blonde hair framing her light blue eyes perfectly. And beside her was Blake, I had to look up to see him. He had dark brown eyes and hair the color of sand. His skin had an awkward orange tint from trying a tanning bed way to long.

"Jacob, here's the twigs you wanted!" yelled Lauren. Blake and she both ran out of the darkness with the twigs for my torch. Blake tore the bottom of his shirt so I had something to tie the twigs together with. I tied the twigs together and stuck them in the fire.

When I attempted to walk to the pile of logs Blake's shirt that was tying it together began to flare up so I threw the torch away from me and it landed in a patch of dead grass. The flames began to grow and I knew I had to find a way to get Lauren blamed for this. Then I hear sirens coming from the distance.

"Police!" I yelled. I pushed Lauren to the ground as the cops pulled up and Blake and I ran off in the same direction. We kept each other's pace up as I heard Lauren screaming in the distance, "Forget about her! She's a jerk and deserves what she has coming. Let her become convict number 425 for all I care!"

"She. Don't. Nice." Is all Blake could get out between his deep breaths and him attempting to avoid the trees that seemed to magically pop out in front of us. "Be nice. She doesn't deserve to, oomph."

I turned to see Blake on his back, "Haha! What kind of idiot does it take to avoid a giant tree? You're so stupid! Get off the ground and get over here now!"

"Jacob, I may have ran into a tree but I'm still a quarterback and I can kick your butt anytime, anywhere." Blake laughed as we kept on running towards his rusty old pickup.
I was starting to lag a little bit, but I couldn't let Blake beat me at anything I got a sudden burst of speed as his truck came into sight and beat him out of the woods. I pulled out my phone to call Warren as I saw Lauren go by in the back seat of a police car so I put the call on hold.
"Lauren is such an idiot. I can't believe she got caught by the police!" I said even though I knew that it was my fault. She deserves whatever she gets. I hope she stays in there forever.
"Cut her some slack," Blake said. "She has her demons, but doesn't make her a bad person. She is caring even though she's conceited. You're on the verge of just being the conceited part of that."
"That's you, you good for nothing loser!" I yelled as a jumped in his truck and drove off leaving Blake behind staring in disgust.
I turned on "Still Into You" by Paramore and called Warren.
"Warren. We need to talk. Blake was just being a jerk to me when I didn't do anything. I just said that I felt bad Lauren was arrested and he just yelled at me about how I am just a conceited jerk."
Warren was silent for a few seconds. "Please, Jacob. Please tell me you did nothing to get back at him and he's in the truck beside you."
"That's a yes and a no."
"What?! You stole his truck? I can't believe he made a snide comment and you stole his truck! Get to my house now. We need to figure a way to get you out of this. I'm calling Blake to do some damage control. Talk to you in a minute."
"Later loser."
I kept on jamming out to Paramore until I got a text from Blake. I picked it up to answer it and started to veer off the road. I panicked and opened my door. I jumped out and landed on the grass, it was crazy but not very damaging.
I picked up my phone and called Warren back, "What do you want?" I said into the phone.
"I called Blake" Warren said, "He is pretty mad and apparently he called the police. I'm sorry but I can't help you if the police get involved. That's out of my realm of power."
"You're just useless!" I screamed into the phone and hung up.
When I looked up is when I saw a heavy-set man with balding dark brown hair walking up to me in a police officer's uniform. He put handcuffs around my wrists and read me my rights.
"I'm bringing in a code 231." The officer said.
"What's a 231?" A woman asked over the radio.
"That's the code!" The officer yelled into the radio.
"That's not one of our codes!" the woman yelled back.
"Oh. I have a kid. He stole a truck." The police officer calmly reported to the voice.
"Gotcha. I'll alert the necessary people." The woman was now calm also.
"Thanks!" the police officer said back."I'll be there in five."
"So kid, what made you do this?" The police officer asked me, "What made you think it's a good idea to steal someone's truck?"
"I don't have to say nothing" I said.
"That's a double-" the cop said
I cut him off to yell, "I don't care!"
I walked into the police station with the police officer as he walked me down into the office which was really just a cell. I was finger printed, booked, and got my mug shot. They walked me over to the cell that I'd be living in and in there was one man. His arms were bigger than my head and he looked at me like it was his life's goal to murder me in my sleep.
"Kid, come over here." He said as the cops walked out of earshot.
I stayed still fearing what would happen next. He stared at me and what sounded like a growl came out of his mouth.
"Kid, I said come here!" he yelled one last time
I walked towards him but out of fear I didn't walk to quickly. I couldn't tell if he was going to be a nice giant or an evil one.
"Kid, I've been in here for thirteen long years. Believe me I was like you growing up. I thought no one on Earth was better than me and I'd fight anyone for no reason at all. I really hate being in this place and I don't want to see you struggling through the same existence I do if I can help it. You should change while you still can. Get out of this dirty existence that I now call my life. Make amends if you're ever able to get out of this place. Don't ruin your life like I did mine."
"Jacob Haleton! Your bale has been paid." The police officer who arrested me had the cell door open.
"Who paid my bail?"
" can't tell you that, I was told to keep it on the DL. They wanted to leave before I let you out. They've been gone a good fifteen minutes."
I walked out the door before he had a chance to change his mind and knew this was the perfect chance to think of the man who had been my cellmate for those twenty minutes and everything he told me. Maybe I am at fault for all the shortcomings in my life. Maybe I am the jerk that everybody says I am.
I knew what I had to do. I have to make it up to the four people that I have hurt the most. I turned back into the jail and asked how much Lauren's bail was. "Lauren King. Her bail is one-thousand dollars even." The clerk said. I paid the money and waited for Lauren to walk off.
"Lauren, I was in jail for about twenty minutes and my cellmate really helped me learn a lot about life. I could never apologize for everything I've ever done to hurt you, but I hope that bailing you out of jail is a good start."
"Jacob!" Lauren hugged me, "Ever since your parents died in that wreck you've been a jerk. I'm so glad you aren't going to be that person anymore. I really hope you continue to be this great person!"
"Can you help me? I want to go do the same for Warren and Blake. I know exactly what I want to do for Blake, but Warren I'm not too sure about. What does Warren need that he doesn't have? What have I done to Warren that I can repair?"
"I can't think of anything specific you hurt of his, Jacob." Lauren started, "but what I do know is that one thing Warren wants is for you to be a better person. The only reason he's stuck by you for so long is that he loves helping people and he is really at the end of his rope. Just let him know that you've changed is really the best way that you can make up for everything that you've done to him and all of us."
"That's a great idea. I'll make sure to ask him if there is anything else I can do to repay my debt." I said back to her.
I knew the next thing for me to do was to give Blake the money to pay to get his truck fixed. I jumped into my car and drove to Blake's car and he walked out of his house when he saw me pull up.
"Jacob! What do you think you're doing here? Shouldn't you be in jail!?"
"I deserve that, Blake. I'm sorry for everything I've done to you and I'm making my rounds to apologize to everyone for everything I've done and I know exactly where I want to start with you." I said to Blake, "Here is a check for twelve-hundred dollars. I had your truck appraised and that's enough to get it repaired. I hope you can at least begin to forgive me for everything I've done to you.

I never thought I'd see the day you'd become the person I remembered from before the accident. I definitely can forgive you, but I can't if you go back into the slump you've been in since you're parents got hit." Blake said.
"I won't. I promise." I said back to him.
Warren's house was just next door so I walked over to his house. I knew he was going to recount the accident a little more than I would like, but he's the person I've put through the most because he's the one who never gave up on making me better. Warren opened the door as I walked up to it.
"Warren. I wanted to say that I've changed I'm not the person I've been since that drunk took my parents away from me. I've had a hard time, but I'm glad you've been by my side the entire time. I really want to know if there is anything I can do to make this up to you."
Warren replied, "I remember that night like it was yesterday. I was in the back seat, if you remember. We were minding our own business when a man swerved into our lane and hit us head on. He died along with your parents. They found out he was overly intoxicated and shouldn't have been walking, much less driving. Jacob, I can't comprehend the pain you must've been feeling and I can't blame you for that. I'm just happy that you aren't acting like that anymore. I don't want anything but a promise; a promise that you'll never become that person again."
"I promise." I said back.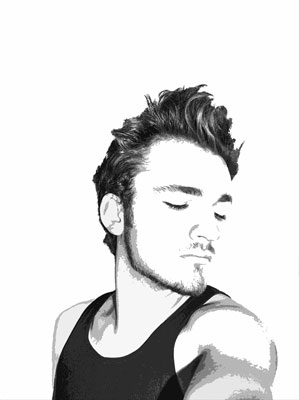 © Sean C., Princeton, IL