The Lonely Hooting Owl
October 23, 2014
There's a pleasant breeze in the night, just the right one that blows the smoke away from you. I've been a night owl lately, haunting the veranda come nightfall and burning cigarette after cigarette until my lungs lit up in protest. Worse, I still keep chasing the skies for every jet that flies by. Wishing maybe, just maybe, it's that one.
Mom and Dad have flown out the country again. A week's passed since the tears and goodbyes and airplane take-offs, but they've rooted down in my head. I don't even know why. We aren't close in the slightest. Sure, Jason was quite warm with them, but it was a different business with me. Maybe it's because he was five years younger than me. Stilted dinner talks fell apart after the "Catherine, how's school?" answered with my own well-worn "Fine". But maybe that's just how things are. A seedling needs its sunshine, after all, or else it wilts and dies.
Except it's been days since they went off-radar. No one even knew what happened. One day, it's all wonderful as I hyped myself up for their arrival. Then Jason called me. A plane reported missing and before you even check the flight number, the anxious, instinctive feeling's there. It's like some nasty ventriloquist's got you from the inside, and you don't even own your voice.
I blew smoke. It drifted in the wind, away. The whole community's silent. There's not a car in the street, and our neighbors' lights are mostly shut. Only the branches and their leaves dared move. I sucked the last life out of my cigarette, smudged its burning end out, and tossed it. They're strewn all over the wooden floor. Oh hell, I need to sweep that up. I don't want Aunt Evelyn asking around again.
I crossed to the dining room. The setting for two was undisturbed. I can hardly blame Jason for his loss of appetite. We've survived the past few days, but drinking cold, jellied soup is not living. I haven't seen the little ghost since last night.
I climbed the stairs to the bedrooms, and stopped by his door. It's way too quiet, like how the world shut its yawping mouth when the bad news floated by.
Straining my ear against the door, I hear muffled sounds.
I knocked. "Jason? Your food's cold. You really must eat."
His voice came through the wood. "No."
"You're too hard on yourself. Come on out."
"Go away."
"What, do you plan to starve yourself out?"
No reply.
"I'm going in," I said.
With a hand on the cold metal knob, I opened the door. There was an inching creak. The room was black if not for the computer's bluish glow. And there in front of it, Jason sat petrified on his chair, his face perfectly calm, with Dad's Berretta pressed against his temple. When the light of the hallway spilled into his room, he looked at me, and in a graceful arc, swung the pistol from where it was, aiming it at my forehead.
I drew my hands up.
"Jace, what--"
"Step back, sis." His voice scraped hard at the end, and it sank grumblingly.
I crept to him at  a careful pace, but he rushed back, spectre-like, swinging the pistol around. Then he trained it shakily at me again.
"Please. Just leave me to do this."
"Jace..."
"Don't call me that."
"Jason," I said. This time he was calm. He sat on the bed, shivering all over like a wet pup. I wrapped my arm around his drooping shoulders. "Tell me what's going on." I reached for the pistol, but he shot me a look that bore enough fearful threats.
Jason toyed with the heavy Beretta, flicking the safety absentmindedly. The gun was old with countless scars in its paint. He tossed it about in his young, clean hands.
"You know how it is."
"Mom and Dad?"
He nodded.
"Look at yourself," I said, picking up his icy hand, and warming it in mine. "Oh my god, Jason. You're so cold..."
He drew back. "I'm fine. Really."
"No." I bundled him in the loose checker bed sheets. "You've got to look after yourself."

"It's ruined you too. Since when have you ever smoked or gotten drunk--"
"Inebriated. I was just slightly inebriated." I blushed, and suddenly felt conscious of my own slips and faults.
"It's killing me. It's killing us."
"I know. But we can work past this, right? It can be done. That's how I get through it." I let out the faintest smile. "I imagine this is what they'd want. For us to go on. Crazy as it sounds, I like to believe it."
"I don't know, Cath. I just don't know." He looked at the computer screen. The page was nearly blank except for an opening line. The cursor was blinking where he stopped.
"Dear everyone, especially to those who wasted themselves on me," it read.
"I was writing it when you intruded," Jason said. "It was supposed to be beautiful." He looked at the gun, cocking and uncocking the hammer. "When it was done, I was gonna sneak to the fridge, and eat a whole bar of chocolate. Then I'd blow my brains out, and be done with it."
He's a kid. That's it. Just a little kid.
"Oh, Jace... Come on, let's go down right now. We'll drink a gallon of milk and eat every chocolate in sight."
He was still.
I lit up another cigarette. The smoke wafted out the bedroom window. Suddenly Jason looked cross, and his face soured.
"Cathy," he said.
"Yeah?"
"You know that's bad."
"Calms my nerves," I said. I inhaled deeply, and savored the smoke curling out my breath.
"Stop it, please. You'll get cancer."
I laughed a trifle more than I should.
"You're such a character, Jason, you know that? Here you are, and what, you're thinking about me smoking myself to death? I'm just two years away from being grown up, anyway."
"I'm worried for you. I hate the world and everything in it, but not you." Then, he snatched it from my lips, and stomped it on the dirty carpet.
"Hey, you ass!"
For a second, he smiled. Not the goofy, face-bending kind, but of the gentle, almost unseen wry variety. He was so young, so innocent. I wrapped my arm around him, hugging him tightly.
"Please, please, please don't go, Jace. Just don't do it. There is hope. There always is."
He sighed and turned away.
I moved my hand to the pistol again but he withdrew. "Touch this, and I'll kill you, Cath. I swear it."
Dead silence.
"Oh god. Jace, what are you saying? Do you... Do you hear yourself?"
He couldn't look at me. Of course, he couldn't. "I'm sorry. I just--I don't know." He ran his fingers down the length of the barrel contemplatively. "When that policeman and the airline representative told us what happened, did the world go quiet for you?" he said.
"Too much. There was something to that, wasn't there? It made me feel like ending it right then and there."
"But you didn't."
"But I didn't."
We sat like that for a long time until the sunrise. I had nothing to say.
It seemed eternities passed before he stood up, and said, "I'm through with this."
"Okay, look. Just sit down. We can talk this through," I said. My heart was racing. My skin was burning, and if he didn't sit down soon, I'd scorch myself to ashes like my million other trampled cigarettes.
"No. Come on. Let's go outside. I want one last look--"
I rose too, and clasped him on the shoulder, but he shied away. Oh Christ, what if I can't stop him? All these thoughts of love ought just to burst from my mind, enveloping him like a shell from the pain, the despair. Then all would be right. But it can't.
"I'm tired of that, of everything." He walked to the window where the sunlight shone bright and hopeful, and peeked through the shutters. "I hate it. In a couple hours, Aunt Evelyn'll take us to God knows where. I just can't stand that. Even thinking of it scares me. I'll be in someone else's house, sleeping in someone else's bed, eating someone else's crummy bacon and eggs. It sounds silly, I know, but..." His eyes locked with mine. "I miss Mom and Dad."
"It's okay. I'm here. We still have each other." I said.
"But Aunt Evelyn--I don't want to go with her. I just want to stay here." He held his head between his arms, the gun still clenched in his fist. With dry racking sobs, he cried. He turned to me with his swollen eyes, and said, "Cathy, could I ask something?"
"What is it?"
"Do you remember that lullaby Mom used to sing?"
I nodded. My voice was like hollow wind. "Hush, little baby, don't say a word. Mama's gonna buy you a mockingbird...
"...So hush little baby, don't you cry. Daddy loves you, and so do I." By the end of it, his head rested on my lap with a look of near bliss. Smiling and his hand crossed over his chest that rose and fell steadily.
"I can't believe what's happening to us, sis," he said, voice choking. "When I first heard the news, I thought it was some joke. It couldn't be true, like Jesus should save us from these things. Then I heard your footsteps running up the stairs, and your door slamming shut. And you never joked about serious stuff. I locked myself up after that."
Then he closed his eyes and curled his mouth into a thin, hard line. It's impossible to describe unless you've lost someone you've truly loved.  Little Jace, who never cried when his toys broke, oh little Jace, you have to keep together.
"Hey, look at me, Jason. We can pull through this mess. Jason?"
But it's like he couldn't hear a word I said. "Did you know I haven't had a bite to eat or a glass of water since last night?" he said. "I mean, I'd really love it if you fetched me a something for my throat. It's so hoarse. A little water might do."
I was stupid. I was so goddamn stupid. I went to the kitchen without even thinking and groped for a glass in the early dusk. When I got back, the door was locked.
"Jason? Jason! Open up, now!" I pounded the door so hard, the dust showered from it. I kept hitting and thrashing and bashing for hours. The cup was no longer in my hand. When I looked down, the floor glittered with my blood and the shards of glass. But my own pain was secondary.
He hadn't done it. There was no bang, not even a whimper. Just silence.
Then, he said, "Cath, I'm not coming out of here."
I said nothing.
"I have to confess something, sis. I have two bullets. And it's better you don't know what the other was really for."
I said nothing.
"But it's better like this. When I fire the first shot, I want you to run away, far way. Don't come back. Not until they find me."
I said nothing.
"Don't attend the funeral. I don't want to see you sad."
I said nothing.
"Cath, say something, anything. I need to hear you."
"I--"
"Promise me you'll do those."
"Okay... I promise." I was crying. I slid down to the floor, back against the door. The beams of sunlight stretched to my toes, and the warmth was almost comforting.
"Thanks," came his voice through the wood. "You shouldn't have come back. I'll miss you, Cath. I really will. But I just can't stay." After a long pause, he said, "I'm so sorry. Visit if you want."
"Wait, please."
Why can't I move? Why can't I stop him?
"I love you, Jace. Okay?"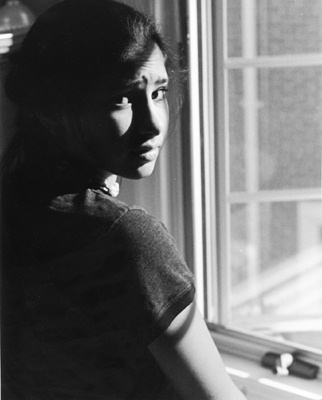 © Jennifer H., Bethesda, MD