From the Window I Watch
July 16, 2015
"Are you seriously still awake?" My older sister asks groggily as she comes into my room, to tired to bother knocking.
"Yeah, sorry," I say. "I couldn't fall to sleep."
"It's almost dawn, Kat. Can you at least try and be quiet."
"Sure," I sigh and watch as Meave leaves to join her husband down the hall.
Truth is I was asleep from 10:30 pm to 2 a.m., like I have been every night this summer.
Once sure Meave is in her room to stay, I return back to the windowsill where I look down at the empty boardwalk.
Where is She? If She doesn't come soon then she runs the chance of being seen by the early morning joggers and store clerks who like to get a head start on the day.
The sun is just beginning to peak above the shore line. This is so unlike her.
Maybe She came before two and I missed it. But she's never came any earlier than 4 a.m. Waking up at 2 was a precaution.
As I am about to give up, thinking that my tradition was no more, I saw two dark figures emerge from the shadows, illuminated by the light casted by the street lamps. My eyes laying upon her, I feel my heart flutter.
The man who is always with her is carrying an object in his arms, covered up in a tarp, like he always does. She is holding a rope, weighed down on each end with two large stones, which she wraps around the tarp.
I brace myself for what happens next.
With one swift movement, the man tosses the object into the ocean. On impact it creates a splash so large it reaches all the way to the shore where She greets it with open arms, allowing the salty water the wash over her.
Turning back to her accomplice, they exchange a quick nod before separating off into different directions. As She is leaving She makes a mistake of raising her head as she walks under the light which allows me to see her face.
It is then that I realize She is not the adult I originally thought she was, but a girl not much older then me.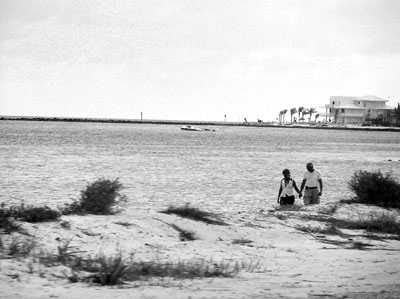 © Edgard B., Coral Springs, FL