Forever Loving and Hating
April 15, 2009
I watched in awe as she frolicked and danced through the wheat of Jeffery Wheat Fields. Her moonlight colored hair swirled around her beautiful face, while her white dress twirled around her pale legs. I tilted my head to get a better look at her beauty. She danced over to me and slipped her small, fragile hand in into my tan bulky one. The sun's rays made her golden eyes sparkle. She giggled and I laughed as she led me through the wheat till we came across a patch of grass.

The two of us, lying in the grass staring at the sky change from the pale pink of sunset to the light violet of the night. The girl sat up and picked a four-leaf clover from beside her. She gave me the clover. I took it and made a silent wish. Then, I tickled her nose with it and threw it behind my shoulder. I stood up and walked toward Jedmans creek, letting the girl follow.


I looked behind me to realize that the girl was not following me. She was just standing there as tears formed under her golden eyes. There were black clouds with red static rolling in behind her. The girl mouthed I'm sorry, as a single sparkling tear fell from her cheek onto a single white rose. The rose withered and died away at the touched of the sparkling liquid. The girl backed up into the shadows.

I couldn't believe my eyes. The one girl I loved left me. My lips trembled as the sorrow, pain, and abandonment entered my being. I watched the clouds recede, the girl nowhere in sight. I turned my back on the shadows towards Jedmans creek, tears staining my cheeks, my eyes red and puffy. So many emotions, feeling, thoughts ran through my body, my mind, my soul. I landed on my knees in the creek; the fresh, clean, water seeped through my clothes making me shiver. I stretched my legs and lay down in the water. The water lapped the tips of my ears, as I started to cry again. It started to rain from regular gray clouds. He rain started as a light pitter of a patter. I was still laying in the creek when the rain started to pour. As the rain flooded the creek, I felt water rush over me, the cold liquid enveloping my body. I closed my eyes and took a deep breath of water through my nose and drowned myself.

A week later my mother found my dead corpse in the creek. I watched her drag it out of the mud and weep over the blue, lifeless, body, from my opaque eyes. I couldn't bear myself to watch my mother suffer. So I turned around and trudged my transparent body further into Pitters Forest.

Forever, loving the girl and hating myself for losing her.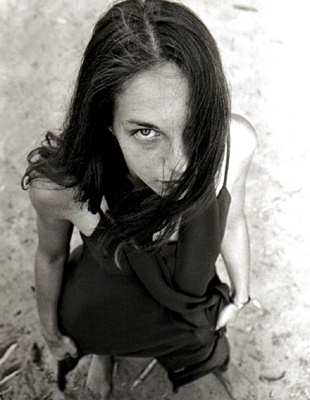 © Johnny V., Burlington, ON