We grew apart
October 4, 2009
I fell in love with him the first day that I met him. He had messy brown hair, clear sea green eyes and a soccer toned body. But best of all, he seemed interested in me.
He turned out to be a great friend. We were freshmen in high school, a really awkward time. But we were good together, as friends. We would text, talk on the phone at night and walk to every class together, my head bowed towards his as he whispered in my ear. Every time we touched, our knees brushing as we sat together on the bus, or as he grabbed my hand to pull me through a crowd, I felt as though I was being electrocuted. He was gorgeous, popular, smart and funny and he was my friend. I loved him. He loved me like a sister.
But second semester we had less classes and sports, our new schedules and constant family demands kept up apart. My best friend asked him to Sadies and he said yes. I was hurt, but he thought nothing of it. We grew apart over the next few months. It was that simple.

By the end of our freshman year, he and I barely talked. A small hello as we passed but nothing more.

Over the summer, I forced myself not to think about him. I told myself that I was over him and I'd never really had a chance anyways. But come end of summer, I still stressed about seeing him. He was the one loose end in my life.

So the day that I first saw him in three months and he was flirting with one of my friends, I knew he wasn't right for me. No butterflies sank in my stomach. No beet red blush crept up my neck and face. I could talk to him without doing a ditzy giggle if we were alone. We have spanish together this year. Last year, I fell in love with him in that class. This year, I've fallen out of love with him in espanol. He's perfect...for someone else. So each time he tries to flirt with me or whispers in my ear a funny story, I laugh but nothing more. I realize that I'm over him, even if it took me more than a year to do so.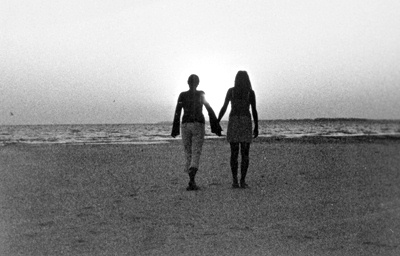 © Kim B., Marblehead, MA