Parting is Such Sweet Sorrow
November 10, 2009
"Hey, whats your name?" I asked the teenage oy that stood infront of me. "Sam" he answered with a quick glance up at my face. We continued to walked side by side to the baseball field. I looked arond at all the kids here. They've all been taken away from there families and sent to live here untill they're eighteen. I come to the village once a year with my youth group and every year I hate leaving and this year Sam will make it harder for me to go.
I just watch as they play. Sam's team is winning. I clap and cheer for him as if he's my brother. We are called for lunch and I sit by a little girl named Jacy. Afterwards Sam asks me to play ultimate frisbee with him. I do. He picks mefor his team and as I throw the frisbee to him. I realize he has barley said two words to me and yet I already love him. We win the game of frisbee.
Sam and I sit in the grass with afew other kids. We stare at each other. Then I hear the dreaded words, "Come on kids, we have to go!" I bite my lip and Sam helps me up. He walks me to the bus and hugs me. "I'll see you next year until then we can talk on facebook." He says. A tear rolls down my cheek. "Don't cry, my love. Parting is such sweet sorrow till me meet again in the morrow." Sam said thn softly kissed me. With that I left. Sam on my mind the wonderful boy I just met and was already in love with.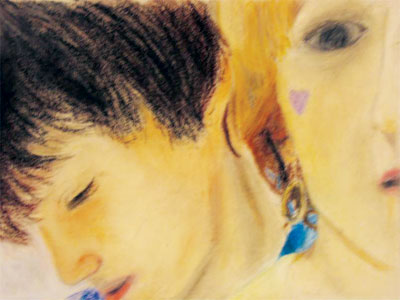 © Natalie D., Ames, IA