Firefly Kiss
February 5, 2010
Sadie looked out over the deserted park and waited for her blushing cheeks to cool. Next to her, Brian was staring again through his sandy brown bangs and the shy gaze he directed at her made her skin prickle.
"Brian," she groaned with feigned annoyance, "You always do that." She heard him chuckle and failed to keep the smile from creeping into her face.
They'd walked to the park straight from school that day and had spent the afternoon staring up at the sky and pretending they actually saw shapes in the fluffiness of the clouds. It had been a pretty much wasted afternoon but Sadie couldn't think of any way she would have preferred to waste it.
"Hey Sadie?"
"Yeah?"
Brian looked down at his hands and began to fold a leaf between his busy fingers. Something in his nonchalant demeanor seemed to change with that "Hey Sadie" and with a more driven tone he stammered, "I… I…"
Sadie smiled to herself and returned her attention to the silent playground as she anxiously waited. He what?
Brian moved closer to her on the grass as his green eyes bashfully found Sadie's and hooked with them.
"I…I want to kiss you," he said.
Sadie felt her stomach flip as goose bumps crawled quickly up her arms. For a moment she wondered if he was joking but his eyes softly vouched that he was sincere.
"I don't know," she replied quietly. "I've never done that before."
Brian nodded with understanding. "Neither have I," he said.
"How… do you do it?" she asked in embarrassment. The hot flush returned to her face and she looked down hoping to hide behind a curtain of hair.
"Well," he began with a slightly informative tone, "I guess we just put our lips together." And with a sheepish expression he modestly continued, "I think it will feel good."
Sadie noticed her heart was beating fast but she steadied it and prayed her mind would stop racing so she could think. She knew she liked Brian, she really did, but kissing a boy was unfamiliar to her and she was scared.
Dusk had started to settle over the abandoned park and Sadie eagerly breathed in the smell of chilly air and awakening fireflies.
A picture came to her mind then, a memory from a movie she'd seen a while ago. There was a man and a woman and they were sitting together in a white gazebo. The woman was telling the man about her first kiss, where it was, what if felt like. "It wasn't like fireworks went off or butterflies fluttered in my stomach," she had said. " It felt more like every part of me was struck by lightening. My head buzzed, my fingers tingled. I felt alive in every limb, every cell." Sadie watched in her mind's eye as the woman paused and seemed to revel for a moment in the memory. "It was incredible," she had finished.
"Brian," Sadie sighed and tried to form the unspoken words on her tongue. "Did you ever notice how people are always saying their first kiss was really amazing? They do, you know." She glanced at him quickly and saw that he knew. "But what if it's not amazing? What if there is no lightening? No tingling fingers? I'm afraid."
It was only after she said this that Sadie realized she hadn't told him about the movie scene but the look in his eyes showed her he understood exactly what she was talking about.
"Let me ask you something," he said and wrapped his fingers around hers. "Do you feel anything now?" His hands seemed to fill with pins and needles when he touched her and Brian wondered if she felt it too. He looked into her eyes but found no answer. "How about now?" he asked and touched his lips to hers. He was careful to be gentle, so gentle and he felt he might melt from the fire burning in his throat.
Sadie looked up at him and her gaze said a million things but he could not read any of them. Slowly she removed her hand from under his and touched it to her lips. If she'd asked for another kiss right then, he'd have obliged. Actually if she'd asked for a pony, he'd have obliged; he'd never felt like this before.
"Sadie?" he said, trying to keep any pleading out of his voice.
She seemed to look through him for a moment and he imagined she was again watching that movie scene she had quoted before. Brian waited in silence and noticed he was holding his breath. Then suddenly he watched Sadie shake the memory away and with the light of the fireflies dancing in her eyes she opened her mouth to answer.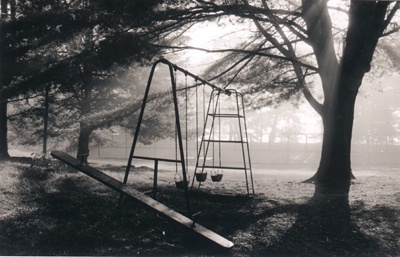 © Steve S., Marblehead, MA