Romantic Love Story
January 13, 2009
I can't believe she accepted so suddenly. I can't believe she said yes. I sit here dumbfounded.


It takes me back to the day when we were sitting in Mr. Smith's History 101 class. I always sat in the back of the class; she sat in the front. I received B grades; she was A all across the board. We were two totally different people, and I was bound determined to ask her out. A couple of days went by before I built up enough courage to ask this beautiful young lady to be my girl. I had it all planned. I would trot to the front of the class, sharpen my pencil and then on my way back to my desk, I would drop a note off to her. Just as planned, I did what I said. I arrived back at my desk watching her unfold the note and read it. She swung her wavy blonde hair around with her head and gave me a gigantic smile. Her cheeks were as pink as a bright pink rose from blushing. That, my friend, was the day I fell in love.


As I sit here, I glare at the shiny pond water wondering. Wondering what the future has in store for the both of us.


Kathy and I had been dating for about a year. We had finally entered our last year of college. She was planning on becoming a vet assistant; I wanted to become an employee working for the richest man on Earth… Bill Gates. On our one-year anniversary I was planning on taking her to the most romantic restaurant around, Tavern on the Green. That was when I hoped to receive my long awaited first kiss. When the day came, it seemed as if the date for that night wouldn't arrive there any faster. Before I picked Kathy up, I stopped by the flower shop and grabbed a dozen bright blush pink roses, the color of her cute pink blush cheeks on the day I asked this lovely young lady to be my girl. We arrived at Tavern on the Green for our romantic dinner. She and I were having a wonderful time, looking back on our relationship and how we overcame obstacles to arrive where we were today. It was hard for me to listen because I just couldn't stop staring at her beautiful blue eyes. After dinner, we went back to her dorm room. We watched the NOTEBOOK. I thought this was the perfect time, perfect atmosphere, and perfect woman to acquire my first kiss from. The movie was just about over and the couple was lying there in the hospital bed. Kathy and I were all cuddled up, her head lying up against my chest. The movie ended and she lifted her head up. We stared deeply into each other's eyes. Then, like all romantic movies, we shared the most magnificent kiss of my life, of our lives.


The day was growing weary. Night was beginning to fall. But all I did was sit here. Sit here watching a movie within my head of the day she came to me and said she received an offer for a job to be vet assistant with one of the top vets in the country.


It's been three years today when Kathy and I became more than friends. I wanted to take our relationship to the next level. Yes I am talking about marriage. We both had been living together for about two years. My life couldn't be any better. I was working with a great computer company; Kathy worked at the local vet as an assistant. One day Kathy and I had just arrived home from our jobs. She wasn't her usual self.

"What's the matter, sweetie?" I asked her.

"Oh, I've just been thinking lately," she replied.

"What have you been thinking about?" I asked questioningly

"I was at work yesterday and I received a call from the top vet in the country," she answered.
It took me a while to process the information and answer. I was happy for her. She would finally get to do what she loved at a higher level. I finally regained my composure and said:

"That's great! Are you happy about it?"

"Yeah, but there's one problem," she said hesitantly.

"What do you mean?" I answered with a blank stare on my face.

"If I accept this offer, I would have to relocate," she answered.

"Well I could go with you!" I quickly replied.

"I don't know, I don't know if I want to. I want to be here with you," she said.

The rest of the night we sat there wondering, wondering what to do. I wanted her to take this job, but in the back of my head I just couldn't stop thinking about all the wonderful memories we created here. A couple of days went by, and the subject of the job had gone away, but still lurked in the back of my mind.

Now I sit here looking back on the events that had occurred before now.


I awoke this morning with a smile on my face, not because I was with most wonderful woman in the world, but I was planning to propose to her. Kathy was still asleep, so I quietly crawled out of bed and tiptoed to the kitchen to make breakfast. I planned to make the greatest meal of a lifetime. Two over-easy eggs, bacon, two slices of whole-wheat toast, a glass of Florida's best orange juice, and a beautiful bright blush pink rose to top of this wonderful day.

When I finished I placed each item on a bed tray and made me way up to our bedroom. There she was, sound asleep with her lovely blush pink cheeks lying on the fluffy pillow. I just couldn't help staring at her as I walked closer. I sat on the edge of the bed on her side.

"Good morning, honey," I gently said.
She rolled over and opened her beautiful blue eyes and pushed back her wavy blonde hair. She glanced at me with the cutest smile I had ever seen and then she pushed herself up and gave me a good morning kiss. As she ate her breakfast, I jumped into the shower to get ready for the greatest day of my life.

It was around lunchtime and so Kathy and I took a stroll in the park. The trees were swaying in the soft spring breeze with bright blush pink rose bushes down every path we took. As the time passed, I had to do what I came here for. And that was to ask the love of my life to spend the rest of her life with me. My palms were sweating. I was becoming more and more nervous. Nervous of what she would say. We arrived to a little wooden bench and sat down. We sat there looking at the ducklings swimming in the pond. The time came for me to make my move. I turned to Kathy, got down on one knee, and pulled out a gorgeous two karat diamond ring. She started to cry and then I said:

"Kathy, will you marry me?"
Kathy sat there speechless. She began to cry her pretty blue eyes out. I began to worry because she wasn't saying anything. I don't know if she was in a state of shock because this was actually happening or if she was thinking about another idea. I got off my knee and sat on the bench beside her.

I asked, "Is everything okay?"
She finally stopped crying and took my hand. She looked into my eyes and said:

"Mike, I love you with all my heart and would do anything for you, but…"
She stopped in the middle of her sentence.

"But what!" I said.
Tears started to trickle down her cheeks.

"…You're a great guy, but I don't want to have to this to you. I accepted the job offer for the top vet in the country."

"Yeah, that's great! We can both move to New York together." I replied.

"You don't understand Mike! I can't accept you proposal," she said.
I sat there looking at the ground. I didn't know what to say. I looked at her with tears pouring from my eyes. She looked back at me and said,

"I'm sorry, Mike."
She gave me one last kiss on the cheek and walked away; walked away leaving this man with a broken heart and nothing to look forward to; walked away into her new life; walked away from everything we had.

Now I sit here wondering what I could have done differently to change her mind. I sit here with a heart that is broken and has no way of being put back together. I can't believe she accepted so suddenly. I can't believe she said yes. I sit here dumbfounded.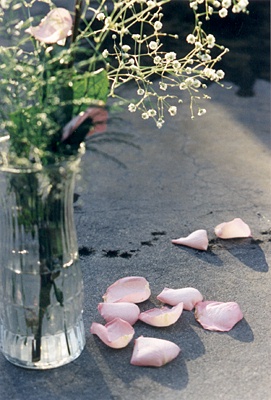 © Anonymous