Sometimes I Wonder
June 14, 2010
Sometimes I wonder if you remember our time together as vividly as I do. Like the day that we met in the music store, when we picked up that album at the same time. It was last copy, but you said you would burn me a copy if I let you have it. I didn't really trust you, but I let you have the CD anyway, because I thought you were cute.

Sometimes I wonder if you had as much fun as I did at the first concert we went to together, and if fell in love as quickly as I did. My heart and my mind were conflicted over you, because my heart was falling so fast, and my mind knew that I wasn't good enough for you.

Sometimes I wonder if you have any recollection of the day that your mom died. Your stepdad didn't care enough to tell you in person, so I was with you when you got the phone call. I hadn't a clue what to do when you fell to your knees, so I held you and I kissed you. I kissed your lips, and I tasted your pain, and the saltiness of the tears streaming down your face. I knew at that moment that I would never stop caring for you.

Often, I wonder if you think of me in the same way that I think of you. I wonder what you're doing now, and if we'll ever meet again. The hardest thing I've ever had to do was say goodbye to you, but I knew that I couldn't make you stay. I still miss your room, your car, your smile, your laugh, your smell... your taste.
I don't know if I'll ever be able to love again, but I know I have to get on with my life. Sometimes I wonder if you've moved on without me.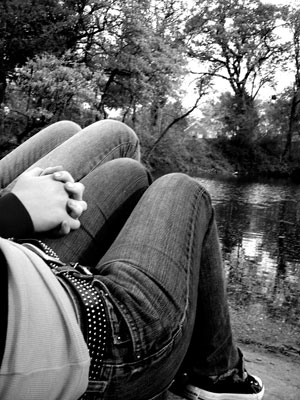 © Lauren R., Edmond, OK