Something Pretty to Look At
September 22, 2010
I glanced around the classroom. Mr. Beriman hadn't arrived yet, and everyone had been left to their own devices. Including me.

With a small smile, I set my binders aside and flipped open my book. Fantasy, again. Mrs. Blenin would be pleased when I returned the book only a day after I'd taken it out.

Five minutes later, once I'd sufficiently immersed myself in the fantasy world of The City of Bones, the old door squealed open and in walked two people.

The first was Mr. Beriman. He was a tall, thin man with rough stubble and brown hair with the slightest hint of gray. A smile graced his ruddy face.

Behind him was someone distinctly shorter, no more than 5 '7. They were very slim, and walked with the grace and confidence of a lion on the prowl. Looking at him, I raised a brow. This must be the new kid. Oh joy.

His skin was lightly tanned, smooth and taught over high cheekbones. Golden-blonde hair was cut short at the bottom of his neck. As he turned my way, bright, baby blue eyes with lashes like a girl's were revealed.

"Hello, class." Mr. Beriman greeted. "Good to see you all for the first time. This here is the new student, Will Brynn." Brynn….so I would probably be in his lab group. My sister had clued me in—they were simply chosen by alphabetical order. But it was possible the split would be between us. I crossed my fingers under the desk. "You can go sit over there, Will." He gestured to an open desk several rows away from mine. I let out a breath I hadn't known I'd been holding. Will strode toward the desk, and I caught a sparkle from his ear. He had a small black stud, glittering and pretty. Usually guy earrings weren't "pretty".

The attendance commenced, and I cringed in anticipation of my name being called. It came sooner than I'd have liked.

"Leslian Baron?" As always, a flurry of scornful whispers burst out upon hearing my name.

"Here," I sighed. "And you can call me Leslie."

I glanced down at my book again, but on the edge of my sight I saw the new boy look at me before hastily turning away. I could guess why. I should probably add him to the list of daily teasers I mused. Better safe than sorry.


I strolled into the class behind the stork-like teacher with the funny face. In my head, the last words my dad has spoken to me echoed 'round and 'round. A new start….This'll be a new start…What he didn't say was that it wasn't a new start for me. It was a new start for mom, and our entire family. But he'd drilled into me that I had to make a good impression at the school. I remembered my response perfectly.

"Well, I'll try. But no promises."

Entering the classroom, I allowed a mental slap and cheer. The class was three quarters girls. That would not be making things any easier.

From my casual inspection, I gathered that most of them were the typical jeans and tight shirt-wearing females that strutted around school flashing things "accidentally" and speaking to each other at the top of their lungs. The usual.

One in particular caught my eye. Probably because she wasn't "the usual". I took in the loose blue sweats and baggy gray shirt, the book lying open on the desk. I averted my gaze before she could look up and, after the necessary introduction was over, made my way to the assigned seat as casually as possible. I grinned at the girls around me, and was rewarded by the giggles and googly eyes. I had it easy, there was no point denying it.

Roll call whirled by, along with names as familiar as the appearances. Jessica, Erika, Ashley, Caitlin. All except for one. I should have known it would've been her name.

"Leslian Baron?" That girl had it rough. Between her clothing, reading habits, and name, I'd wager she didn't have much of a social life.

"Here," she replied quietly with a soft sigh. "And you can call me Leslie." Mr. Beriman hardly looked surprised.

The girl hunched up, but I was still afforded a clear view of her face, and I was startled. This girl was pretty. Not revealing tops and short bottoms pretty, but pretty-pretty. Dark, curly brown hair bordering on black was pulled back in a simple high ponytail. Curved red lips were pursed in concentration, and bright amber eyes shone vividly against a pale complexion.

Why does she dress the way she does, and act the way she does? Even with a name like that, she could still be quite popular if she conformed. I couldn't help my thoughts. It was true, after all.

She seemed to sense my gaze, so I turned away again, still lost in contemplation. I guess it's her choice, I thought. She doesn't look very poor. Maybe she's one of those who's trying to be different because they think it makes them "interesting" or "unique".

No, that didn't fit. Well, who cared what the purpose behind her behavior was? My eyes strayed toward her once more, and I smiled a genuine smile. At least, when I was bored, I'd have something pretty to look at.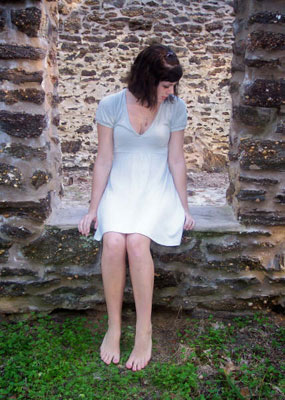 © Katie S., Vineland, NJ