Best Friends
February 13, 2011
I'm kind of sick of looking into his eyes and knowing he's not mine. Maybe that's selfish, in fact, it probably is, but I don't really care. I hate watching him walk past with the size-0 blonde bimbo on his arm. It's like he just doesn't get it! She's only with him because she thinks she has to be; he's the quarter-back and she's the head cheerleader.

Cayden and I have been best friends for years. Ever since my brother died, I knew I could count on Cayden to listen to me. When I said I wanted to trade places with my brother, Cayden smacked me on the back of the head and told me he needed me too much for that to happen.

The thing is… I'm a nobody. I get good grades and I'm the lead in most of the school plays, but I don't get invited to the same parties as Cayden and Rosy. We don't drink at our parties, but there is always some illegal substance or another present. I try to steer clear of it, but the pot in the bong and the tobacco in the hookah, I couldn't resist. The point is that Cayden is way out of my league.

Still. I love him. I trust him. I need him.

Oh. I'm writing all this down. Probably ought to burn the paper when I get home. Cayden is sitting right in front of me. He turns to ask me what our teacher just said. I snap my notebook shut.

"What just happened on the chalkboard?" Cayden asks, those forest eyes smiling at me.

I shrug. "Cayden, I haven't paid attention in this class for a month."

"Kella, you're useless!" Cayden laughs. "You were taking notes. Show them to me!"

I shake my head. "I wasn't taking notes."

"Another poem? Sheesh, Kella. You're going to let me read it, aren't you?"

I shake my head again. "It's… it's about Kyle's death," I mutter the lie, praying he'll believe me. Cayden sighs and turns around.

After school, Cayden meets me by my locker with red-rimmed eyes. "Cayden!" I cry. "What's wrong?" he leans his head on the door of my locker. I put a hand on his shoulder.

"Rosy's moving." The misery in Cayden's voice is almost more than I can bear.

"Oh, Cayden, I'm so sorry! When's she leaving?"

"Tonight. She broke up with me a few minutes ago. Said she didn't want to deal with a long distance relationship." He shakes himself. "It's the past now. You told me you wrote about Kyle again. You okay?"

Technically, I did write about Kyle again. It was last night. I nod. "It just still hurts." I hear my voice crack. I try to control it, but my eyes fill and the tears spill over. Most people think that it never hurts anymore. After all, it's been three years. I should be over it, right? As if Cayden can read my mind, he pulls me into a hug.

"That's it. Football is over, and I can skip my workout for a day. We're going out to a movie. With a lot of junk food." Cayden announces. When I hesitate, he grabs my arm and drags me out to his pickup.

"My car…"

"Forget it. Ride the bus in tomorrow and bring your car home tomorrow night

I nod and jump into the passenger seat of Cayden's pickup.

Cayden buys us tickets to a romance he knows I'm dying to see and winks at me when he hands the money over. When I try to pay for the junk food, popcorn, and drinks, Cayden grabs my wallet and stuffs it back into my backpack. "No. Bad Kella," he laughs then paid for the food. He pulls me to the theater and to the very back row.

Halfway through the movie, I say, "You know Cayden, we need to talk."

"Yeah, Kella, we do," he says, eyes sliding over to meet mine. After the movie, he drives silently to his house. When we're there, he leads me into his bedroom and sits on his bed, inviting me to sit next to him. When I do, his rainforest eyes stare deeply into mine. "You know why I dated Rosy."

"Because you fit the stereotype with her. Yeah, I knew that from the beginning." I look away, but Cayden grabs my chin and forces me to look at him again.

"I don't want to be a stereotype anymore. And Kella, you and I both know there's something between us." He runs his hand through my hair.

"Yeah. But I'm not a rebound girl."

"You're right, Kella. You're not a rebound girl. You're my best friend, and I want you to be even more than that." Cayden leans toward me and touches his lips to mine.

"I always have been more than your best friend," I murmur.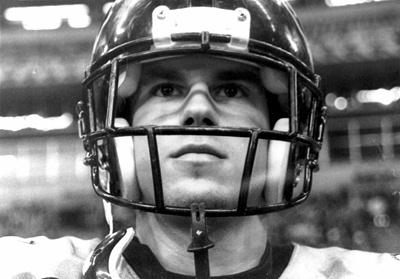 © Maria M., Halton City, TX