The Library
February 20, 2011
High School has a way of sucking the energy out of you before the end of second period, but not today, not for me. I reach under the desk and pull off the piece of paper taped underneath it. It reads "To My Writer" on the front of it. I delicately unfold it and slide it into a book to read.

"Dear Writer,


Since we have started talking, I find myself wanting to meet you more and more. Letters just won't suffice anymore. Please meet me in the library tomorrow at 3:45, I'll be waiting by the window.





All my love,





Guitar Boy"
I re-folded the note and slid it into my pocket. I felt like I had left my body entirely and I was floating on cloud nine far away from Spanish class. I plucked a sheet of paper from my binder and replied, writing furiously. I taped it back under the desk and leaned back in my seat, daydreaming of what was to come the following day. The rest of the day flitted by in a blur and before I knew it, it was 3:30 the next day. I dashed to the girl's bathroom and meticulously applied lip gloss and smudged mascara around my bright green and gold flecked eyes, my hands shaking in nervous anticipation. A little voice nagged in the back of my head "Why are you even doing this? He may not like you. What if you don't like him?" I gagged the little voice and locked it away in the far recesses of my mind. I re-fluffed my inky black curls and, taking a deep breath, walked back out the door and headed for the library. My heart pounded against my ribcage as I opened the glass door and walked in. My legs felt as though they might disintegrate as I looked towards the window. Nobody was there. I glanced down at the screen of my phone, but it was only 3:37. A little more relaxed, I walked to the window seat built into the huge French window. The librarian had the window open, letting a warm spring breeze float in lazily. I sat down and leaned against the wall, looking out onto the manicured flower beds and shrubs that surrounded this side of the school. I was completely absorbed in the scenery and didn't notice that somebody had come to sit beside me. The sound of a guitar being played lightly pulled me out of my reverie. Then the whole world stilled as I took him in. His gray and blue eyes gazed at me intently as he continued to play. He had shaggy, dark brown and black hair and a beautiful face that made my heart flutter. He smiled at me, striking me dumb. My lips struggled to form words as he set his guitar down. I suddenly became worried about my appearance, and the little voice came back with a vengeance. I looked away, terrified of his imminent rejection. He cupped my cheek with one warm hand and turned my face to look at him.

"Finally, I get to meet my beautiful writer." He leaned in and kissed me slowly and deeply.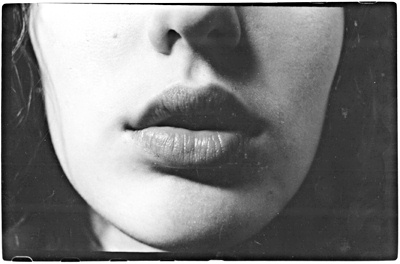 © Samantha A., Southbury, CT