Tutored To Be Loved Chapter 3: New Friend
March 1, 2011
Two weeks have passed, and I felt like Sean has become one of us. His grade now is rising up to a high B, and he's been turning in his papers everyday now. I've helped him a lot, and given him some extra credit papers he can do. Ms. Lannen allowed that, and I'm glad. Surprisingly, I've seen a huge improvement in his behavior. Even though he's perverted, and he goes to parties a lot, he hasn't been in a whole lot of activities.
"You know, this is going to help a lot, to get a college education if you keep this up."
"Really, I mean I never knew how much education means to me, until now. Music is better though, that's for sure, but still." I smiled widely and never been so proud.
"I'm happy for you. I'm wondering, do you want to come over later and study for our exam tomorrow?" He looked at me for a minute, thinking this isn't me.
"Is this really Lily, the shy Lily that I know?" I laughed, which made me realize that I can be sociable.
"Yes this is, and I just want to prepare you so you can get a good grade on the exam."
"Sure," He said. "Then maybe take a walk around the park after?"
"While studying, please?"
"Fine," The bell rang after, just after another short study session.

Sarah randomly came to my locker while I was getting my books to put in my book bag.
"Hey, what are you doing tonight?"
"Sean's coming over, to study."
"Really, this is a new Lily."
"I just want to make sure he'll be good for the test."
"Come on, Lily, you like him, don't you."
"No, I don't, and I never liked a guy, and I'm not planning on to."
"Okay, whatever you say." Sean walked down the hall and waved at us four feet away.
"Hey," I told him.
"Hey, are you ready?" He asked me.
"Yeah, Sarah, I'll call you later tonight."
"Okay, have fun you two." Sarah said while checking Sean out.
"We will, see you." He told her. We walked to my brick house and it stood out from the rest in the neighborhood.
"Here we are," I told him.
"Okay," He said while holding the door for me.
"Mom, I'm home and someone's here so I can tutor them."
"Okay, honey, who's here?" She asked while coming out of the kitchen.
"Sean, Sean Adams."
"Well it's nice to meet you," She said while shaking hands with him. She's very formal once she meets people.
"Well, I'll leave; you can take over the kitchen table until five thirty."
"Thanks, Mrs. Robins." He commented.
"Get your history book open to chapter sixteen. We're going to review the vocabulary words first, then read paragraph by paragraph, and after we'll work on our study guide."
"Okay, whatever you say." We continuously read paragraph by paragraph, and he was a little slow on the reading, but he concentrated. We finished the four pages in a half hour, and completed our whole study guide.
"Well I have to say Sean, I'm actually impressed."
"You are, why?"
"Well my expectations are much higher. Before, I thought you were an immature, obnoxious trombone player."
"Now you see that I really want my grades to be higher," He smiled at me. I've never felt so close to anyone but Sarah before, and it's only been a few weeks though, since I've tutored him.
"I'm really impressed; maybe you don't need me after all."
"No, but, no. I want to get to know you better, friend wise, and it'd be nice to have you as a close friend."
"We'll see about that. But I do have to admit, I'm having a lot of fun with you."
"Same here, oh, and here's the extra credit, I suppose you want to correct it over in case."
"Sure," I examined the paper, and looking at every answer over twice, I was astonished. "Sean, see, I know you can be like one of us."
"It's kind of fun being like you, I have to admit."
"Really," looking at him straight forward, I couldn't believe him.
"What, you don't believe me?"
"Not really, it's hard."
"Come on, people don't trick you."
"Where have you been?"
"Well I'm not lying," He held my hand, "I do want to be your friend, and I really enjoy being with you."
"I do too, and I suppose we can take a break and walk around the park."
"We should, and talk."

We left and the cold breeze flew into my face, and I loved it.
"What do you want to know about me?" I asked.
"A lot, like how come you aren't one of us?"
"I don't want to get into stupid situations."
"We don't get into stupid situations."
"Getting a DUI, pranking an eighth grader, and other stupid, rude things, isn't that stupid?"
"Well that was then, this is now. I want to change me, for the good."
"Like I believe that," I laughed after that. His mood changed into a serious tone, and I didn't like it.
"I'm serious, I do want to change."
"Okay, I believe you. We should hang out some more."
"Yeah, like on Saturday nights, no parties, just you and I, watching movies."
"That'd be nice, and doing homework after school."
"You sound like you're my best friend already." We laughed at the same time, and I really liked the way this is going.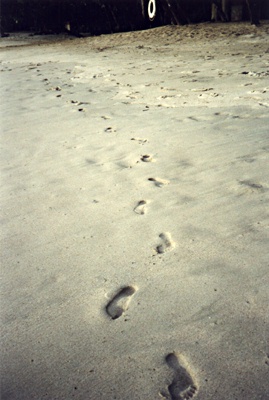 © April W., Rogersville, MO