Silent Screams
March 9, 2011
It was the first day of summer school when I met him. Summer school where I go, Mount Vernon, Ohio, is different than the average summer school that you'd think of. Here, you can take summer courses to get extra credits out of the way. Credits are required to graduate. Now that you know that, you won't think I'm some kind of straight F student. I'm a straight A and B student, thank-you. I am easily distracted. Obviously. Anyway, without further delay, back to the main story. It was the first day of summer school when I met him. His name was Mikal Devole. He had shaggy brown hair, and was about 5'8". He was what we in the gay community would call, a "Bear". He was the most beautiful person I'd ever seen. I liked him immediately. Looking at him was like tasting ambrosia; perfect. I knew acting on a feeling towards another guy was something that you shouldn't do unless you were at a gay bar. So I kept silent. He was walking towards me with my friend Karana Sinclaire, Kara for short. Kara had shoulder length black hair and looked very Asian. She looked like she had make-up caked on her face, it didn't look bad, it was just…. There. She was about 15, and 5'5"

"Hey Kara", I said, trying not the stumble with my words, "Who's this?"

"This is Mikal. He's pretty awesome-sauce. He's a Junior here, but he should be a sophomore." she spoke the last sentence with a tone of jealousy.

"Hey Mikal, what's your last name?" I asked.

"Devole", is all he replied with. Then he added, "And yours?"

I tried to speak but his voice was like an angelic choir humming into my ears. Eventually I spat out, "I-I'm Nikolie Germanotta." I have an Italian name, but I have a very German appearance, blonde hair, blue eyes, 5'9", Gorgeous. I can be a little conceited at times. Only sometimes, though.

At that time, my friend Sara came to our little area directly outside of the gym, music department, and theatre, directly underneath an empty plaque for Honor and Merit students. We're not stupid; it's just that people are too lazy to put any names in there. It was between two small glass displays that held memorials of students who died and achievements of those still living. There was a small wooden bench between the display cases, and that's where we sat. Sara had mildly frizzy blond hair that went down about 4 inches below her shoulders. She had braces, and she was about 16.

Before she came over I asked, "How old are you? 17?"

To which he replied, "No, I'm 16. I'll be 17 on May 26th though."

"Oh wow, my birthday is May 21st and I'll be 15."

"Oh that's… kinda funny actually." Then he laughed and my breath was lost.

That was when Sara reached us and spoke, "Hey Nikolie, Hey Karana, and Hey Mikal. What's up y'all?"

"You know these two?" I asked.

"Of course technically we're all sophomores…. Well not Mikal, Mr. Junior.", there was also a hint of admiration in her tone… or was it longing?

"You guys are all just jealous of me!" he said with a joking tone.

I didn't want to feel the crawling tendrils of darkness, depression, and darkness creeping up on me and consuming me. It'd become too familiar to ever go back to.

You might say that I am too young, but I was once in love. His name was Kevin Madera. He was Hispanic, and perfect for me. But I was confused, and scared. I didn't know what these emotions were, so I left him. He asked for me back a thousand times, and I said no. Finally, when I realized how stupid I was, I asked for him back, and he said no. I was sent into a spiral fall at terminal velocity. The pain was like falling faster than possible through glass shards and salt water. I'd made a mistake, and I didn't know how to undo it.

Anyone who's experienced this before knows that the pain doesn't really ever go away; you just learn to live with it in a way that is only half living. If you ever fall out of the love that you once had, then the memory of the pain still exists for you, and you can never forget.

On that day, Heaven and H*ll were released. And where they went, no one would know except for me. This day was the intro to an emotional roller coaster called my life. Confusion was my main emotion.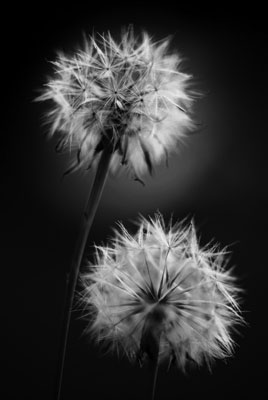 © Daniel H., Durham, NC