Rapture
April 14, 2011
Icy white clouds swirled around in my hair as I hurried down the street. I turned my head around pretending to be looking behind him, but when I saw that his footsteps matched two of mine I picked up the pace and began to jog.

In my mind, he was your typical murderer in a horror story. Long trench coat, hat tipped forward, the invisible smile on his lips. His hands rest in his pockets and he walked with a frightening speed without having to try.

The slick ice had made me slip up more than once. This time I fell off the edge of the gutter, hearing the crack as my back hit the curb. My hands spilled out to try and catch myself, but they slid along as I went down. I curled up into a foetal position on the road, my back screaming in pain. I was breathing so hard that I was encircled with fog.

Peeping my eyes open, I saw the figure standing a few steps away from me, his head bent. I blinked and he was in front of me. Shadows concealed his face, but I could see the tears falling from behind his hat. I blinked for a second time and he had moved again. He was sitting beside me, his hands wrapped tightly around his stomach and his head tucked in to his chest. Part of me wanted to comfort him, the other part warning me, telling me this was the person I had been running from. Then I realised that I couldn't move. My body was paralysed in the same position I had been in for…how long? I started to panic, I wanted to scream but my mouth couldn't move. My sight was becoming foggy and everything beyond me looked like shattered glass, hazy and splintered.

The man looked up at me then. I was frightened at his face. Dark hair fell in jagged edges around his green eyes. They reminded of kiwi fruit, a beautiful green with small black flecks all through it. He would have looked beautiful, but his face was sombre and tear-streaked. My world flickered and he was beside me, a hairs width away. His pale lips parted and he breathed into my ear.

"Goodbye."

His hand reached up to touch me, but fell back to his side. He stood up and walked away, his hands in his pockets. My view was distorted and fading, fast. I wanted to scream, to cry, and to break free of my imprisonment. But there was nothing I could do. Defeated, I let myself slip into the mire of my mind and the darkness take over, his sweet voice ringing in my ears and down my throat.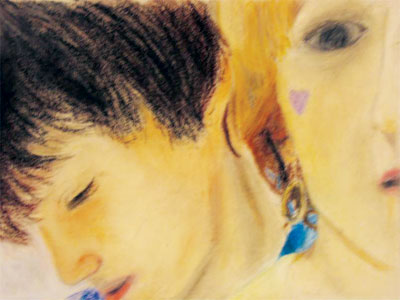 © Natalie D., Ames, IA