The Pacsun Employee
April 29, 2011
I was pacing back and forth from Rockin Willy's and Claire's dragging along Cam. In between the dreaded Pacsun.

"Just go inside. It's your favorite store. You can't avoid him forever. It's not his fault he works here." I was giving myself a pep talk, or trying to anyway, either way, it wasn't working.

"C'mon Jae." Cam complained, "we need to do some birthday shopping."

I shot Cammie a look of sorrow.

She exhaled, "Jaden." She almost never used my full name. She spoke slowly, "it is your birthday. This is your favorite store," I looked at the floor, "on your birthday your supposed to shop at your favorite store. I know you love to 'shop till you drop'," she smiled as I smiled, "so today ... that is exactly what we are going to do."

After that lecture, I convinced myself that I was at least half ready. I looped my arm through her's and we headed into Pacsun ignoring all employee's.

"Just don't look at him." I heard Cam whisper in my ear as she saw me sneak a peek at him. I ignored her, not wanting to look away.


This certain Pacsun employee was also my boyfriend about a month ago. His name is Jarrod.

The thing is, I'm the one who broke up with him, so I have no idea why I'm freaking out over it.

I like him. Or, I did. I think I might still. I mean, there's a possibility. Do I?

When I look back, I always wish that I didn't get so mad. It was such a little thing, I totally overreacted.


My thoughts were interrupted by Cam whispering in my ear, "oh my god, he's coming over here!"

I pretended o be interested in a few different tank tops when he finally reached us.

"Cammie," he nodded, greeting her. He looked down, noting how short I was, and turned me around to face him. "Jaden," he said my name with care. He was standing so close, closer than necessary. "Can I talk to you in private?"

I panicked, looking over at Cam, she nudged me as if to go with him.

I agreed to go knowing I would somehow get forced into it anyway.


He was pulling me along with his hand on my left forearm. When we got to the hallway that led to the dressing rooms he stopped and let go of me.

Jarrod was quiet while he gathered his thoughts.

"What'd you wanna talk to me about?"

"Happy birthday," he started off with a smile.

"Thank you," I smirked, trying not to give him the satisfaction.

There was silence.

Then, finally, Jarrod said looking at his feet, "are you ever going to tell me why you broke up with me?"

Oh god. I knew this was coming. Even though it had been a month since I ended things, I never had told him my reasons for doing so. Right after, I ended all communication with him. But, I guess, he finally deserves to know.

"I don't know," I mumbled not wanting to get into it.

He paused, "can we pretty please get back together?"

"What happened to Chelsea?"

"We broke up. We weren't ever really together. We just went on a few dates and that was it. I don't want her."

"Who do you want?" There was irritation to my voice.

He got closer, put his hand on my hip and said softly, "I want you."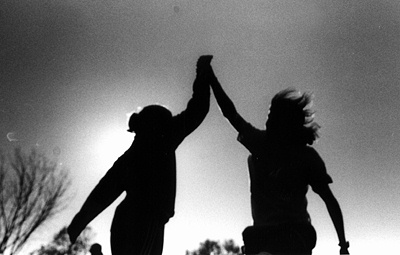 © April P., Marblehead, MA