Marry Me
June 9, 2011
He flashed me a smile, and his eyes dazzled. I stood from a distance; my breath taken away from me. I watched the leaves fall from the forest of trees around us. The grass was still deeply green in the small meadow we were walking through, and the air was slightly bitter, a sure sign of early fall.
I laughed, watching him pick a flower from the freshly bloomed fall flowers. He walked over to me and handed me a pretty yellow flower. I took in a breath, my heart shaking with excitement, as I was falling in love with him all over again. My curls blew messily in the breeze, and he carefully brushed the wisps of loose hair off my face.
"May I?" he said to me, gesturing to the flower.
I didn't say anything, but smiled, and handed it to him.
He tucked the stem behind my ear ever so gently; it was like being touched by an angel. No words were said for a long time after that, for we were lost in each others eyes. I could feel his warm hands on my arms, as he held me in front of him. A huge smile spread on his face, and I knew he was going to be only my guy, forever.
I felt like dancing, flying, running, jumping…my head and my heart going crazy, my mind begged for him to kiss me.
Kiss me, kiss me, kiss me…
He then took my hand and led me up to a clearing in the forest, where godly rays beamed down through the trees. The beautiful colors of the leaves made the place seem enchanted.
"The first day I met you, Arianna, I wondered what it was that made those beautiful hazel eyes seem so magical. I wondered why it seemed as if the world stops every time I look at you. I wondered why saying your name always tasted rich on my tongue, and why I couldn't stop thinking about you," he paused a moment and laughed a little, "I remember being young and thinking why I ever bothered to talk to you, thinking there was no chance, and that you were to good for me."
I opened my mouth to object, but he put his finger gently to my lips.
"Don't you dare say anything, because it's true; I mean it when I say I love you, Arianna." He said smiling.
I watched him reach into his jacket, and he pulled out a small box.
Suddenly my cheeks were aching and I felt hot streaks running down my face, I was enveloped in the moment and all I could see was this handsome man before me.
He got down on one knee.
"I want to be with you, forever and always. I want to spend every moment I have with you. Arianna Isabelle Copeland will you please marry me?"
"Yes!" I said, my voice barely a whisper, the happiness and love poured on me and I instantly fell into his arms.
He took my hand tenderly and kissed it before placing the ring on my finger.
"Now will you kiss me?" I asked him, in a flirtatious voice.
And he did.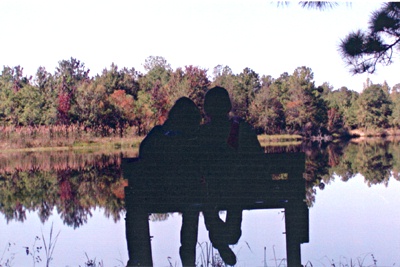 © Heather J., Slidell, LA