In the Roar of the Last Lunch Wave...
August 30, 2011
The roar of the last lunch wave was no louder than usual, but to him it seemed dulled by the pounding heartbeat in his head.

"Hey, wake up!"
Oh, there she is, he thought. He flushed and stuttered, and realized he'd stared right through her while he was concentrating on what he'd say when he did see her.

"Hey, Ruby," he trailed off and looked at her black Converse grinning up at him. She intimidated him so much, with her dark hair and big doe eyes, her pale skin and her velvet voice.

"I'm here," She stared expectantly at him. His cheeks reddened and he turned again, looked at the wall, and tried to raise his voice.

Breathe, speak, relax. He looked back at the comforting off-white stones and—

"Why do you keep staring at the wall? Why don't you just go hug it already." She smirked, but then her eyes turned kind again. He ignored the question while his thoughts flooded down out of his head, into his mouth, and out into the air.

"Well, I was wondering. . . if you'd like to. . . you know. . . hang—" I'm a stuttering idiot! She'd never…
She cackled suddenly, throwing her head back. "Silly! Finally, jeez, I thought I'd have to ask FOR you. YES! Seven PM okay? I'll meet you, alright, see yuh!"

She sashayed off, and he stood gawking at the space she'd just occupied.

"Okay, bye." He muttered to the open air in front of him. Then laughed, and drifted back to his table.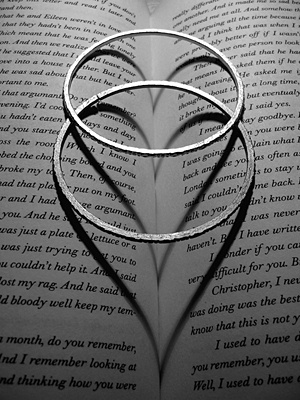 © Julia K., Old Tappan, NJ