Impossible Love
October 23, 2011
It's early in the morning, the sun is just starting to rise. I went for my routine walk through the woods near my house. Down by the old oak tree, a shiny knick knack caught my eye. I picked it up, curiously feeling it all around. The bright silver catches the sunlight coming down between the tops of the trees. There's a face of a woman in white on the front. On the back, there is a design which is so unique; I've never seen anything like it before. There are shiny blue jewels around the face and differently shaped beads going up the chain. I open it to discover that it is a locket, but it is broken. Through the many years that someone has carried it, the clasp broke. On the inside there are two old fashioned pictures on both sides. The picture on the left was a beautiful lady with long, brown, wavy hair and next to her was a man with dark, short hair. They faced towards each other and looked so filled with joy. It is all on a key chain, you could take it everywhere with you. All of a sudden, an old lady walked frantically towards me and snatched the locket from my shaking hands. She asked in an angrily tone where I had found it and I told her. Then she said the locket was hers. The elderly, but pretty, lady was very skinny and petite. Her hair had been bleached white over the years but it was still lengthy. She placed her fragile hand gently on my shoulder. "Would you like to hear a story?"
The story takes place the summer before her freshman year. She had long, brown, wavy hair. She was catholic and he was muslim. Her best friend, Andy, had dark, short hair and what she thought were the most amazing eyes. They were both good looking and had been getting closer that summer. They hung out almost every day. There was this one place that they both loved going to more than anything. It was also the one place they could go to actually be alone. Just the two of them. It was a small beach close to her house. The beach was pretty much empty most of the time considering the size of it. The beach even had a two person swing set, which they spent the summer on, while it squeaked going forward. For them, it couldn't have gotten any better. It was like little kids' love. They started dating in the first place because he wrote her a beautifully written poem, declaring his love for her. She fell head over heels. All of their friends always teased them and sang, "K-I-S-S-I-N-G." They'd just laugh along because they knew what they had, had been good.
Towards the end of that summer, they had to say goodbye for a few months because he had to visit his family in Turkey. After three long months of being apart, school started. He made it back in time for the second week of school and they had made plans to be together after school that day. As soon as she saw him, she ran and jumped into his arms. That was the first time she smiled ever since the last time she saw him, the first time she was truly happy. As they caught up, he said he had to tell her something. She was worried by his tone and hesitancy but as he out his arms around her, she felt comfort. He told her that him being muslim basically means that he can't be with someone who isn't. As he finally got the words out, she collapsed into his tightening arms and her cheeks flooded with tears. She never remembered ever feeling as upset as she did now. And he could say the same.
That night, Andy lay awake thinking to himself about the whole situation. He realized that something had to be done. But what? His parents weren't even the problem. It was his grandparents who had the problem with him dating Danielle. After thinking long and hard, he finally had the nerve to stick up for her. He wanted to choose his words carefully so he paced back and forth repeating and trying out his lines. He could do this.
The next day, his grandfather had the nerve and asked with a smirk on his face, "So did you break up with that silly girl yet?" He got to use his lines he rehearsed and flipped out on both his grandparents. He made sure they finally understood; he loves her, and nothing was going to get in the way of that. The grandparents were shocked and their jaws dropped. Andy then ran down the stairs and out of the apartment to meet with his girl. Danielle saw him with tears in her eyes and reached for a hug. He told her everything that had just happened and they just stood there holding each other for a long time. He surprised her with a locket. She smiled as she opened it curiously and saw their pictures in it.
After his confrontation with his grandparents, they never had a problem with him being with Danielle again. His family understood and later, they had the fairytale ending they've always hoped to have.
As the elderly lady finishes her story, I smile to myself hoping, maybe one day I'll feel the way she did. She wishes me the best, as she slides the locket in her pocket and disappears behind the trees.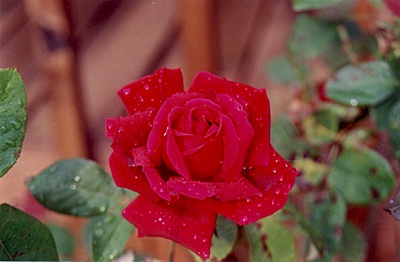 © Jami U., West Hempstead, NY