Romeo
June 8, 2012
Did my heart love till now! Foreswear it sight, for I never saw true beauty 'til this night.
Romeo ran for the trench and ducked down with his hands over his head, gripping his too large helmet and praying that he wasn't dead. But that is what people did in wars, he thought. People die and their families grieve and then new people are born to try again.
This war was merciless, though. So many people he had to watch be taken onto a ship to leave for the fight, and never return, and then he would go home and find Juliet praying that it wouldn't be him the next time. But it was, and poor Juliet is left home to deal without him. But they were calling it the Great War, the War to end all wars. He hoped that when he made it back to Juliet they wouldn't have to send their son off as well.
But then there came another shell, this one just a little closer, and Romeo screamed and he heard the rest of his comrades scream and he had time to just glimpse the sun peaking shyly over the horizon one last time before it all disappeared...

And then he was back in America. He could tell not because there were huge neon signs pointing to the earth and claiming "Welcome Home Romeo", but because off in the distance he could see her, sitting on a bench outside of the mail house in their home city. And he couldn't help himself from trying to run to her, to pull her up into his arms and stroke her long pale hair and to assure her that he would never leave again, but he couldn't move. Why couldn't he move? Then she stood up and he could see that she had been crying from the long streaks of wet on her cheeks and from the way that her nose crinkled. She always crinkled her nose when she was upset in a way that he used to think was so adorable. And then she tried to walk, but stumbled and fell flat on her beautiful face, the letter she was holding in her little hand flying down the street in the breeze. But she didn't move to catch it. She didn't even move to pick herself up.
Romeo screamed at her to pick herself up. He tried to run to her and comfort his poor Juliet and tell poor Juliet that she had to be okay; that when he woke up from this terrible nightmare and came home to her she could have whatever she wanted. She could have one of those motorcars that she thought were so fascinating or she could have a mansion to live in. Or he could find her an island that they could live on in total isolation, where no more wars could tear them apart.
But then she was screaming, while crawling into a ball in the middle of the dirty road, right in the middle of town. She was screaming for him, with such a heartbreaking voice that if he hadn't already been dead he would have died instantly in hearing it.
And then people came by. Romeo recognized the men from the grocery and the women from the neighboring houses on their street, who started to cry when they realized what had happened. But he couldn't tear his eyes away from his poor Juliet.
And as he watched he heard her heart break as loud as an avalanche. And wondered if he could ever could have prevented it. Would he have been able to not have seen her and so easily fallen in love? And so Romeo cursed his cursed sight, and the truest beauty that he had seen that beautiful night.
And Juliet thanked heaven for knowing her Romeo at all, and for the night that came on the night that he died, and for the dagger that she always left on her bedside...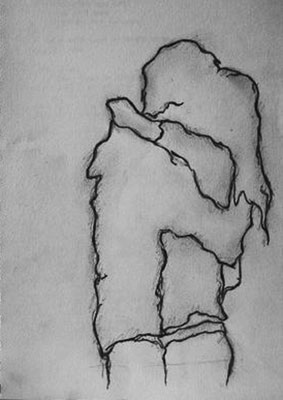 © Nicole B., Newcastle, WA