Left But Not Forgotten
October 1, 2012
I seen her from across the room. No one knew, but I did. She was hurting, in pain. And I wanted so much to go up to her, hold her, and tell her everything would be all right. But I couldn't tell her that, because I had ruined it. Our friendship, our relationship, and our trust. She kept trying to hold it together, talking to me and telling me everything, but I didn't cooperate. I still ignored her, thought it would be for her best. But I was wrong, it only hurt her worse, and I no longer see that heart warming smile spread across her face and the twinkle in her eye. She used to tell me that I was the one that made her happy, that kept her sane.
And somewhere along the way I fell in love with that girl. The genius, the heart felt romantic, and the one who loved smiling and swimming. After three days I loved her and told her. And she loved me too. But there was nothing we could do about it, because I loved my girlfriend too. But this girl who was so happy with her blue eyes was ten times more amazing than my girlfriend. But I knew she'd be frowned upon, called a man stealer. And I couldn't do that to her. And that's why I cut it off.
She told her friend about me, who in turn told me. When she found out, it ruined the friendship. But then I told her the feeling was mutual. I imagine her face, how it must have lit up, and then I imagine the tears that must have struck when I told her I was staying with my girlfriend.
That's when I thought I should cut it off, put a stop to it. I thought if I stopped talking to her, that she would move on from me, and find someone who loved her for the beautiful person she is. Someone who would do her right, unlike what I was doing. She kept trying to talk to me, to hold our friendship together. But I didn't even meet her halfway, or a quarter way when she walked three fourths the way. And then she lost it. Everything. She told no one of our meetings and talkings and love, and she began to fall apart. The twinkle disappeared, she stopped swimming and smiling and laughing, and she stopped trying. But the last words she left me with were "I;m sorry, Ryan" as if it was all her fault. AS if she were the jerk that tore us apart.
And this is where we remain, her on the other side of the room, holding in the tears and the laughter and the secrets she has wanted to share with me for a while, and me sitting here laughing with my friends, wishing I could go over there and hug her, listen to he secrets, and hear her laughter one more time. So I pick up my cell phone, click her number far down in the list of my contacts and write "Hey Twinny, got any tums," I see her finally smile as she lifts the phone from her pocket and open her text. She meets my eyes from across the room and I see the twinkle in here eye as I stand up and walk towards her. She won;t hurt anymore, because I'm coming back for her.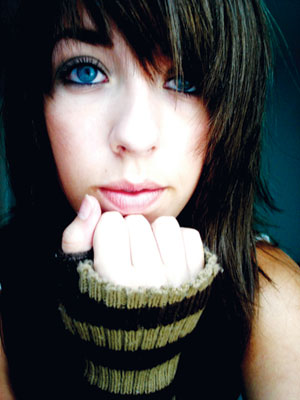 © Brit H., Peabody, MA