Living with You
May 5, 2016
I think I love you, as I touch the reverberations in your spine, how it tingles under my touch, how you shiver as the scent of vanilla shampoo breathes inside your nostrils.

I think I might talk to you, spread out across the bed in lazy decadence, stroking your soft, newly washed skin; it rubs against my fingers like newly-woven silk, like dewy fabric.

You open your lips then, your slightly plump, pink, desirous lips, and you start to talk to me, and I fiddle with the clean white duvet that comforts both our feet, and I listen, because we both like it when the other listens.

I don't tell you this, but I remember the things you tell me.
I think of them as the shower flood is sweeping the soap off my deliciously warm skin; I think of them as I wobble on the step-ladder, reaching for the last piece of dark chocolate; I imagine your eyes, blossoming open like a green pea, wild as you tell me of your dreams.

The reality may be a cramped, but cosy two-bed flat on the edge of the city…but I am living with you, and inside our world, it is a blissful slice of rainbow in my dark day.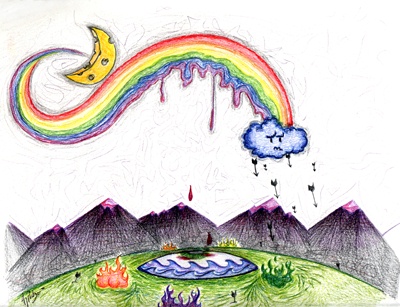 © Alexa P., Ridgeway, PA