Love On The Rocks
April 7, 2009
It's days like that when she really felt close to Johnny; when the crisp leaves of autumn had turned all red and gold, and they would hold hands and stroll through the small park near his house, just taking in the scenery and breathing the fresh fall air that always reminded her of chilled apple cider. It was colder than usual, she remembered, and small cyclones of fallen leaves meandered along the wide, woodsy path. And it was her birthday.

Somewhere along the path, he pulls a small, velvety box, topped with a floppy red bow, out to her, his amber eyes warm and languid like honey. "Happy birthday, Vanessa." Vanessa opens the box and gasps.

"They're beautiful!" she exclaims, standing on tiptoe to kiss him on the cheek. Two small, glittering diamond stud earrings rest in the soft satin lining of the box. "Thank you!" Then she looks down, a little embarrassed.

"What is it?" he asks.

"My ears aren't pierced," she says.

He laughs heartily. "Is that it? Well, we can always go get them pierced later, but for now just keep them as something to remember me by." Something in his words trouble her, but she just can't put her finger on it. Then she does, and it just makes her more hopelessly confused than before.

"Remember? Where are you going?"

"Texas," his eyes grow distant, becoming flat and lifeless, not at all the deep honey eyes she had always known.

"When?"

"Next month."

She couldn't say anything. There was nothing to say. Hot tears well up, trickle down her cheeks, feeling like corrosive acid against her skin. And he holds her close, and she cries.

~
~
~

Back at home, and all cried out, she sits on her bed, holding the velvety black box between her palms as if trying to absorb the faint impressions that Johnny's hands had left on it that cold November afternoon. She opens it, caresses the tiny glittering gems inside, and goes to her jewelry case. Inside, she finds a small leather pouch and places the earrings inside, hangs them from a delicate silver chain around her neck, right next to her heart.

~ ~ ~

At the restaurant she watches the bubbles in her soda fizzle and pop, until they are gone and her soda becomes flat and lifeless, like her heart right now, like Johnny's eyes on her birthday. The month before Johnny was to leave seemed to flash by in an instant, and yet it seemed an eternity. That little seed of dread that had been planted that cold November evening had spread it's vile, diseased roots thorough her entire body, feeding on her happiness until there was none left. She couldn't even enjoy this short time with Johnny. She fingered the soft leather pouch around her neck.

Johnny sits across from her, stirring his soup, already cold, with no intentions of eating it. "I'm leaving tomorrow," he says hollowly.

"I know," she says.

~ ~ ~

Vanessa's phone rings at midnight. It's Johnny.

"Do you love me?" he asks.

She doesn't hesitate, "Of course I do."

"Say it."

"I love you."

"I'm not going to Texas tomorrow."

"What?"

"I've been thinking about it, and I just couldn't see myself living without you."

"Johnny NO! You can't! Where are you?"

"It doesn't matter, you can't stop me." He hangs up the phone, the short click on the other end seemed so final. Then she remember the river in the park where they used to walk. There was a waterfall, with huge, jagged rocks at the bottom. She jumped in her car and took off into the night, tires screaming.

~ ~ ~

He was right where she had guessed, but it still made her heart stop cold when she saw him standing there, seeming so small and vulnerable in the biting wind. He jolted whe he heard the car door slam and turned.

"Johnny don't!"
"How…"

"Does it matter? Don't throw your life away. We can keep in touch and…"

"That would never work."

"Johnny…I love you. Please…"

"I lo…"

He loses his balance, and falls.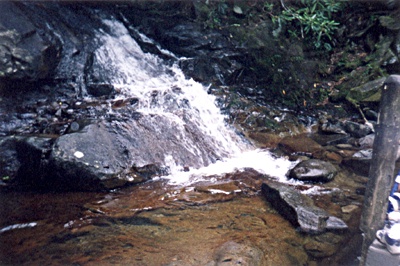 © Heather H., LaHarpe, IL