A Dream Within A Dream?
July 21, 2011
She had short hair, cut like a boy's, large brown eyes, wide with feigned innocence, and tanned brown skin, as if she had been in the sun for too long.

She looked a bit familiar, but maybe that was just my imagination.

She strode to where my father and I were standing so clueless, staring at the enormous water slide that the lady was in charge of. There were screams and shouts echoing throughout the park, followed by splashes of laughter.

I squinted at the blaring sun.

The lady shook our hands. She had this grin plastered on her face, and her head and arm gestured simultaneously to the slide. She pointed to a stairwell, telling us how to get to the top. It didn't seem too complicated.

My father and I were still wearing our clothes, but many others probably were too, and it wasn't like we were going to be soaked.

We were at the top in seconds. The entire water park could be seen from the tower. I didn't feel in the slightest bit scared about being up there, even with the holes in the ground and the holes above me, spilling white light onto the platform.

It really was a beautiful day, almost fantastical.

Before we got on the slide, I thought about how frustrating my father could be. He had a blank look, as if he didn't want to be here. Of course he didn't. He never liked going anywhere with me.

He held up a tube we had to sit on and gave me a frustrated look. I didn't waste a second getting on.

We slid down, fast as lightning, the wind whipping past us, the water swishing on us, my joy overcoming my slight depression.

The light from the sun had grown a bit dim. My father was ahead of me and he looked back, waving frantically.

How had he gotten there so fast?

There was a door. It rose up to the sky just like the water slide. Here, the light was blinding. Maybe the sun was only an inch away from me, though I wondered how I couldn't feel the heat.

Somebody was there. It was a girl, maybe a year older than me. She was crying, her head bowed, her hands shaking uncontrollably. I wanted to ask her what was wrong, but I actually already knew.

Her brother had died, and she had been searching for him, to no avail.

Now I was the one searching, she had told me. I had to look far and wide and use all the abilities I had to do so, or he would be lost to me forever. I wasn't sure what she was talking about. I didn't know how to start looking.

I think I passed by a cloud, but perhaps I was mistaken. I couldn't fly.

My eyes darted back and forth over the world. I was suddenly back on the platform leading down to the water slide. No. I wasn't there. That was just in my head. Something tugged at my memory.

And then I saw the lady once again. We were near a shopping mall. She was jogging, pulling a dog after her. I knew what I had to do. I started running, my legs like jelly, energy wasted. She seemed to get farther and farther away.

I had to cross a road to get to her, but there were cars shooting past. With a leap, I managed to get to the other side without a bruise. And then I was running, running again, letting my legs carry me as far as I could go.

Where was she?

There. I knew I had to get to her. My search would end with her capture. But she was just too far.

Quicksand. The roads were made of quicksand, and my every step stuck into the floor so that I had to try twice as hard to get to my destination. The lady was almost a speck in the distance.

And then something tackled her from the side. I hadn't seen it coming.

It was the girl I had seen near the large doors. She was with a police officer and another dog. The lady, that lady with the short hair and the big eyes and the tanned skin… She had killed my father. She had killed that girl's brother.

And yet… I knew the reason she had done it. She told me.

She did only what we hadn't been able to do.

But it wasn't true! I didn't want my father dead!

I grabbed on to the woman when she tried to escape, and there was only rage in her eyes. With a free hand, she slapped me across the face.

I shut my eyes, winced, and rubbed my cheek.

That had not been necessary. That had not been good.

I opened my eyes to find myself in a bed, heart thumping wildly. What had just happened? Perhaps I was suffering from a wild case of amnesia. I shook my head, a bit bothered, strange and unreal images flashing through my mind.

Downstairs, I found my dad waiting for me. He brought me to the living room, where a lady sat waiting.

She had short hair, cut like a boy's, large brown eyes, wide with feigned innocence, and tanned brown skin, as if she had been in the sun for too long.

She looked a bit familiar, but maybe it was just my imagination. Shaking my father's hand, and then mine, we sat down and began to talk. And as the lights in the room grew darker, she began to smile.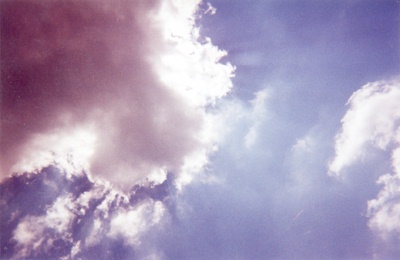 © Kena A., Huntsville, AL