As it Should
July 1, 2013
You sit down at the lunch table. Look outside. It's sunny. Stay where you are regardless, because this is where you sit. 12 steps from the door and 6 steps right, this is your seat.
Take out your brown lunch bag. Don't worry that it's ugly or wish for something nicer, because this is the bag you use for lunch.

A figure moves towards you. Wait- 1…2…3 seconds, now look up. Wait- 1…2 seconds, now smile. Not a wide grin or a smirk, but a small closed-mouth smile.




Now she says hello, but this time you don't count one second to respond as you should. No, you say nothing, because you cannot hear the words she mouths.




You stare at her just as you should not, because you don't know what is wrong. She is making no sound. You watch her open her mouth wider and wider, too wide, as if the words just need more room to squeeze out.

She is gone. She did not walk away or disappear, she was never there. Pay attention now. Look around you and see the others sitting in their seats. Talking and eating, because that is what they do at lunch. That is exactly what they should be doing.

Look closer now and see that you are wrong. See how they all speak at once and look not at but past each other and seem to not recognize each other at all.

They start to yell. Gradually, then all at once. Not at each other, but past each other. Louder, louder, so loud that you notice most not the sound, but the piercing pain in your eardrums.

You draw your hands to your ears and squeeze your eyes tight, willing the pain to cease.
Now drop your hands. Open your eyes. You are greeted by silence and an empty room.
The people did not walk away or disappear, they were never there.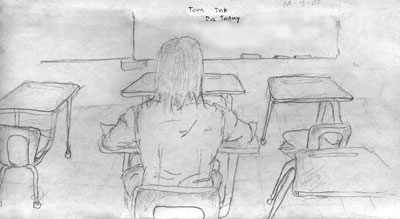 © Christopher M., Dededo, GU