I Dare You
March 5, 2009
Just three words and he can control anyone in the world. Just three words and he had taken over me. Just three words, his harsh voice unconsciously lingering by half a second on the last vowel.

Three words and I was dead.

So I died about a month ago, I'll never forget his face. He'd burned it into my mind long before my death. There was no escape from him, not in my sleep, not in my dreams, not even in my after-life. The first and last time I saw him was coming back from the bakery. It was just past dawn and I was making my way towards school, driving my small grey car slowly, desperately trying to obey traffic rules. I pulled up to a red light. Slamming on the breaks as usual. There was no one there. The road was empty, the sun my only company, the sky my only thought, getting to school, my only worry'

Until I felt his eyes.

They landed softly on the back of my head, tracing my golden highlights, scrutinizing me. I flicked my head around, and chocked at the sight of him. I stopped breathing, my heart racing. There he was, not moving, so still, unnatural. You'd have thought I have known by then. Stay in the car. Don't move. Stay quiet he won't see you. Those would be the natural thoughts, running through anyone else's head, but I didn't work like that. My mind never drew to the right conclusions'my assumptions always failed me. I turned back around in my seat and glanced at the light. It was still flickering red. It showed no signs of changing; it gave me time.

That flickering red light killed me.

That light gave me four minutes and twenty three seconds to turn off the ignition, no escape, get out of the car, vulnerable, and walk towards him, defenseless. I paused for eight seconds as I stood outside my car. I heard my watch ticking angrily'warningly. But now I realize it wasn't ticking angrily, it was counting'counting down to my death. As of that moment, I'd died.

He stood about eighteen feet away from me, his hands fisted, his jaw clenched, his muscles flexing. Below his darkening eyelids were two white gaps. No eyes, just white gaps. I staggered back a step or two, taking him in. I should've known, he wasn't blind'he was dangerous. He glared, hiding behind his fringe of black hair, swept across his forehead. His pale skin, silhouetted by the blazing red sun behind him made me eager. I wanted to be closer.

There was something singular about his body that made him beautiful. There was something about that pulled me nearer. His finger gestured for me to follow my desires, to come to him. He shot his eyes in the direction of the bridge. An eyebrow rose, asking me if I wanted to come. I nodded. Yes, yes. I thought anxiously. In one tenth of a second he was at the bridge, leaning against it, and he shoved his hands into his pockets.

I kept walking slowly, part of we willing my body to turn around, part of me wanting him, part of me controlled. I reached the bridge, and sat next to him to the short wall. By slippery hands barely holding onto the rail. It was then that his hand touched mine. It was cold, very cold, but hot too, burning hot. I took a sharp intake of breath but he didn't release his grip on my hand.

Worst still, I didn't want him to.

'Jump.' He cooed in my ear, I let the vibration flow through me, rejoicing as they came to me, his voice was so'perfect. I closed my eyes, I would never jump, of course not, that much I knew. I wouldn't ever jump, never. 'I dare you.'

And I jumped.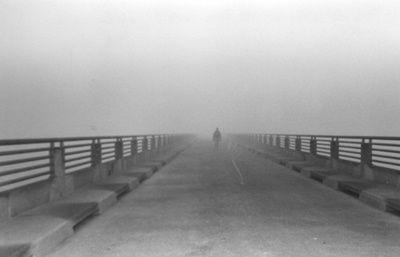 © Becky G., Westerville, OH