The Price of A Book
July 20, 2009
Right now, before you begin reading this, please do me a favor. Think about all the books that have passed through your hands during your life and the impact they've had on your life. Now, think about all the books you own. I'm guessing that you have a lot of books in your house. In fact, I'd be willing to bet that a lot of you have more books then you know what to do with. If you're anything like me, you have multiple bookshelves and you still love going to your local bookstore to buy more.

Now imagine that your family doesn't have a lot of money. And no, I'm not talking about not having enough money to buy designer brands or go out to dinner as often as you used to. I'm talking about not having enough money to have you parents home with you, because they have to work two jobs. I'm talking about being poor enough to really know what being hungry and cold feel like. The last time I went to volunteer at my favorite charity I was told that most children that belong to family's like this have less than five books in their entire house, and that includes a phone book. Five books, that's not a lot by any standards. Hey, I can read five books in a week. And not only do they only own about five books, but they usually don't have the means to get books from outward sources, whether they be from the library or from school, or something similar.

Early I asked you to think about all the books that have ever passed through your hands and the difference they've made on you. I know from personal experience that books have a lot of power. Some books can evoke strong enough emotions to make you change the way you think. Others have the ability to inspire, or to open your eyes to the world around you. Generally, books teach. They're the main tool of most education systems, from story time in kindergarten to reading Dickens in high school. Nonfiction books can teach people about all sorts of things; from health, plants, people, and the world around them. Fiction books can also teach, but they do a better job of making the reader smarter.

So now I want you to imagine your life without the books that you hold dear. No Harry Potter, Twilight, Lord of The Rings, Sisterhood of the Traveling Pants, cheap romance novels, or even textbooks. Where would you be? I guarantee you wouldn't be planning a future career in medicine, or writing your entrance paper to an Ivy League school. In fact, you may not even have a reading ability that's up to par with the standard for your age. See, books are important, even if they don't always seem that way.

I was appalled when I found out about the lack of books in impoverished homes. I've always taken books for granted, not having them seems like a nightmare that my brain couldn't even come up with. Not only that, but I've always been taught that education is the only way out of the vicious cycle called Poverty…so impoverished people not having books just doesn't work in my head.

For me, donating things to Cradles To Crayons, the non-profit I alluded to earlier as being the one I favored, is a fairly regular thing. They're a simple organization, based out of both Philadelphia and Boston. Their main goal is to provide items of need to social workers, and similar professionals, to give to children up to age 12. You should see their building, a large warehouse filled with clothes, toys, backpacks, car seats and of course, books. It's really inspiring to see the quantity of items, and the volunteers that inspect each and every donation, checking to see that it has a quality worth of even their own children. It's even more inspiring to know that, although the warehouse looks like it's about to burst, they still have major shortages on even the most basic items.

Like I said, Cradles to Crayons is no stranger to me. Even though I only discovered it a year ago, I've already hosted numerous donation drive for them in addition to donating random items from my house. Normally I have a school supplies drive in the summer to collect things like crayons, backpacks, pencils, and other things necessary to a young child's education. But this year, I couldn't get the image of five books out of my head, I couldn't imagine not having the luxury of slipping into the world of pirates or Shakespeare when I'm having a bad day. So I decided to go through my bookshelves again, and this time I promised myself I'd only keep the books that were really important to me and that I knew I'd read again. Between my siblings and I, we were able to find more than five hundred books to donate. It's a satisfying sight, seeing all those books bagged up in my living room. I feel accomplished, like I'm really making a difference.

The idea for having a Book Bash came to me after I put the last book, an almost perfect copy of Fever, 1973 by Laurie Halse Anderson, into a tearing paper bag. I realized that I'm not the only person in the world with way too many books. In fact, I'd been to one of my friends houses early that day to help try to squeeze all her extra books under her bed. I decided that I wanted to have a party with a book theme that would allow my friends to add their books to the growing pile in my living room.

The response to the "First Annual Book Bash" was great. All my friends came with boxes of books and we had a great time sorting them and reminiscing about our favorite characters and the horrible books we had to read for school, over and over and over again. You'd be surprised at the amount of memories a single book can hold. Of course we had a normal party after the books were sorted out, filled with food, talking, and a loud walk around the neighborhood. It was great, better than I had expected actually. I was so happy that for once my friends were willing to really help me try to make a difference…while eating Chocolate Trifle, naturally.

Instead of imaging the dessert, try to think back to all those books that you own, the ones that I asked you to picture a few moments ago. I'm guessing that you'd be willing to part with at least a few of them, especially the ones written for younger children. And I also bet that your friends, like mine, could all find a few books as well. Maybe you too could plan a party for your friends to drop off their old books, or anything else that's needed a local charity for that matter. It's a special feeling, sharing community service with your friends. It's hard to describe, but I know that the party I had in July was definitely different from the parties I usually have. I'd like to think that it was because of the obvious sense of purpose we all felt, although I really don't know if that's what it was.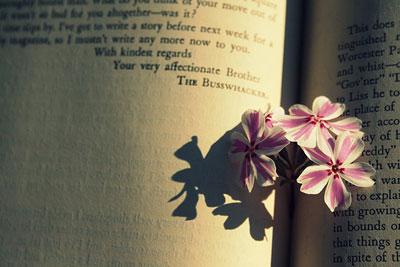 © Jordan K., Oxford, GA