It's Not Easy Being Green
October 22, 2009
My hometown is a small bedroom community on the central coast of California. Because of our location within the state, I am surrounded by an abundance of natural beauty and diversity. For example, the house that I live in backs up to an undeveloped open space. The open space is habitat to various species of animals that have been forced out of their homes by local development. You can often see hawks and vultures flying above the trees, and at night the air is full of coyote howls. When it rains, a choir of toads starts to sing, and every now and then, you can see mule deer. The open space has long been a symbol of the area's natural beauty, and for years it has remained untouched by development. That is, until a few years ago. The open space is private property, and the owners, like many land owners in the area, wanted to take advantage of the growth spurt occurring here. So, the owner hired a developer and made plans to build a 100,000 square foot mixed use development on the property. I knew that if a development was put into the area there would be serious environmental repercussions. Because of this, I took action. My sister and I formed our own 501(c)(3) youth tree planting non-profit. With our organization in place, we began our effort to stop the development.

We started our project by drafting a petition calling for the development to be stopped and for a commemorative tree grove to be planted as an alternative. We went around the neighborhood and stood in front of local supermarkets, asking people to sign our petition. In two months, we were able to collect 1300 signatures. We also attended various county board of supervisors and planning commission meetings in order to voice our concerns about the development. At the first board of supervisors meeting we attended, something unthinkable occurred.

Before the meeting started, one of the Supervisors came up to my sister and me and asked to speak to us privately. When my father rose to come with us, the Supervisor said that she wanted to talk to us without the presence of our father. The Supervisor told my dad that she simply wanted to introduce us to the chairman of the board, and because our dad took her at her word, he allowed us to go. We then followed her into a back room. There, the Supervisors tried to convince us to give up our fight. We listened politely, but we were not dissuaded. Stopping a development may seem impossible, but it was a noble cause that we had to pursue. Their tactic did not deter our efforts. Rather, they made us even more determined to stop the development.


Two months later, the developer's traffic report was released. The report's executive summary stated that the new development would not cause further traffic congestion on Clark Avenue, the main road abutting the open space. However, Clark Avenue is already our town's busiest street. My mom knew an urban planner who taught us how to read the traffic report. Once we deciphered the report, we found that it actually proved that the development could not be built because it would cause the traffic on Clark Avenue to exceed the county's threshold. We presented our findings to the planning commission, but they unanimously allowed the project to move forward. Because the county dismissed our findings, we found a professional traffic planner who agreed to analyze the report for us pro bono. He found even more egregious errors in the report. At a subsequent planning commission meeting, when we submitted our traffic planner's findings to the county, we were once again ignored.

Not long after that, the Mitigated Negative Declaration (MND) for the property was released. As soon as we obtained a copy of the MND, we sought out environmental professionals that would be willing to review the report for us pro bono. The wildlife biologist that we hired said that according to his most recent data, there might be endangered species living in the open space that the MND did not take into account. We also worked with an air quality specialist. When he reviewed the air study he found that the air quality numbers on the URBEMIS scan (air quality study) had been tampered with. We were also able to get the help of a visual impact specialist, a water supply expert, and a geologist. With the help of these six professionals, we wrote a detailed response to the MND and submitted it to the county. Because the development involved possible endangered species, we also submitted our report to the California Department of Fish and Game.

Once again, the county ignored us. However, our findings caught the eye of Fish and Game. They reviewed the MND, and sent a report to the county stating that before the development could move forward, they would have to conduct a two-consecutive-above-average-rainfall-year study. Since California is currently in the midst of a drought, it does not look as if Fish and Game will complete that study anytime soon. My sister and I had actually stopped this development.

My fight to save the open space has been one of the greatest challenges I have ever faced. I learned that a person's age and resources have nothing to do with what they can accomplish. As a teenager I was able to halt a potentially dangerous mixed-use development. This accomplishment gave me the confidence to pursue other things that teenagers normally do not do. In the end, this experience has made me much more confident of myself and my ability to stand up for what I believe in.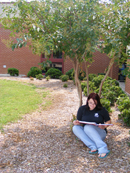 © Carly M., Cleveland, GA