It's a Baby;
February 22, 2010
Age 14-15, you are walking down the mall hallway with your friends. They look gorgeous
with their confidence high as ever, walking with boys stopping to stare. Then there's you, standing next to them with this
huge bump under your shirt. Your bump being probally bigger than you are tall at this young age.
You also are getting looks left and right, your looks being more like looks of disqust.

You could be them, happy with the confidence needed to get through the troubling life as a teenage girl.
Can you blame them though, for looking? Remember the days back when you said this would never happen to you.
The days back when you were judging people just like you.
Well it did happen, you are now in the lineup to be a teenage mom.

What made you want this? You are now in for a constant reminder of the mistake you made for the rest of your life.
Youve given up your youth, your dreams, your life.
Youth is not something you want to miss out on either. This is the time of your life that you will remember most.

All those times you went partying with your friends, or those simple beach days where you play in the waves and just joke
and giggle. These are no longer your memories, they are your friend's memories. You are too busy worrying about your new
child's life while your friends are out having these memories.

Stop and think before you just do the "do".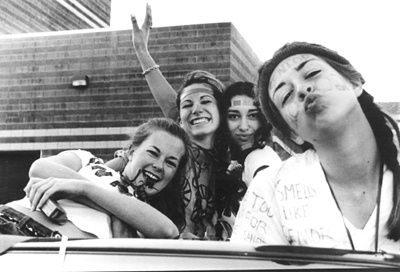 © Sara B., Marblehead, MA