Passing Judgment
September 14, 2016
     Flipping through the September Issue of Teen Ink after a tiring Wednesday morning at school, my mind was dry and in need of some kind of inspiration. That's when the article, "Passing Judgment," by Nick Verni caught my eye. Those 18 paragraphs made my day. The story follows a brief moment of Joel's life as he watched any passerbys that caught his attention while waiting for his train. It delves deeper into Joel's thoughts as he imagines what their lives are like. It ends with Joel and Julie, another people-watcher like Joel, making brief eye contact on a subway car.
     Reading this story only took 5 minutes. In those 5 minutes, I arrived back at my room with a newfound realization. As a student, I often come across much stress as the school day progresses, and would let loose most of that stress by complaining about almost everything to my friends. I would always talk about my problems and depend on others for solutions. This story made me realize the importance of silence. Joel showed his connection to Julie by returning to the subway car she was in, leaving me dazed on how a small action could say so much.
     Our generation is considered by many the first high-tech one. As a result, many of us use our cellphones, computers and other electronic devices to communicate. We contact each other via texting, calling, facetiming, or e-mailing. We are expressing ourselves through words rather than face-to-face conversations. There are only so many ways you could express your absolute joy over a birthday or a particularly good selfie. And who knows? That person could be faking their optimism or sympathy.
     As the famous saying goes, "Actions speak louder than words." We need to learn how to act. We all need to step back for a second and actually see the people around us. By people-watching, we can learn about and connect with others on a more personal level than liking their Facebook or Twitter post.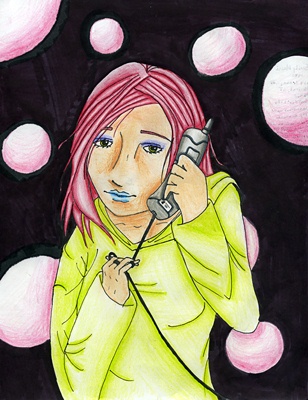 © Emily M., Milford, CT