March for Our Lives and Politics
March 28, 2018
We are always hearing about the March for our Lives and how students are protesting to get "justice" and "show their voices." I have serious doubts these pleas actually come from children, but not from some politicians who actually manipulating these children, inflating their fears, and capitalizing on grief.
In our area school officials actively encouraged children to go out and protest. Here's the fragment of an e-mail superintendent sent to my parents:
"As many of you have already heard, students across the United States are being encouraged to participate in a walkout for 17 minutes at 10:00 a.m. on March 14th. In the XXX School District, we support student voice and discourse. Our principals have been reaching out to student leaders, staff, and parents to coordinate and organize around the March 14th student action…. Students that are not interested in participating will not be pressured to do so and will report to a supervised location."
Most ridiculous, no parental consent was asked for this sort of participation. Schools were asking parental consent for taking students for a barbecue, but not for organizing a political protest!
In some schools even middle schoolers were encouraged to walk out. It feels that many of them were not really understanding what's going on, and were playing with rocks while others were holding posters.
I support reasonable tightening of gun control like universal background checks, raising the age for semi-auto rifle purchase. But this blatant abuse of power by schools make me sick. It reminds me good ole' Soviet times, where participation of students in pro-Soviet marches was "highly encouraged but voluntary". By coincidence, those students who chose not to participate, were getting in a all sorts of trouble: they were not given good letters of recommendation, their stipend was revoked, etc.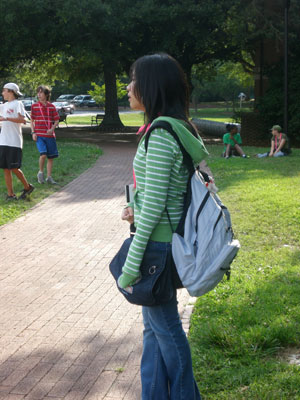 © Lucienne B., Parkland, FL