I'm Not
MAG
I'mnot the one who girls think of in their dreams.
I'm not the bully who isalways mean.
I'm not the prep who listens to pop,
I am the skateboarder wholistens to punk rock.
I don't walk around in fancy clothes.
I don't pull mypants up so my ankles will show.
I'm not the cowboy who is always wearingtight pants,
I'm not the disco freak who always wants to dance.
My pantsare baggy so you can see my toes,
And at school, I hardly have anyfoes.
I'm not the kid who is a hunk,
I'm just a regular, skateboardingpunk.
I'd much rather be skateboarding with my friends
Than watching abasketball game that never ends.
I want to get my ear pierced, I spike my hairto the sky,
And I'm not perfect, I'm not gonna lie,
But just because I'mdifferent from everyone,
Doesn't mean that I can't have some fun.
If youthink about it, we're all different in some way.
Some fat, some thin, somesmart, or some who don't make such good grades,
I'm not big and bad, in fact,I'm real soft.
Because no one can be someone they're not.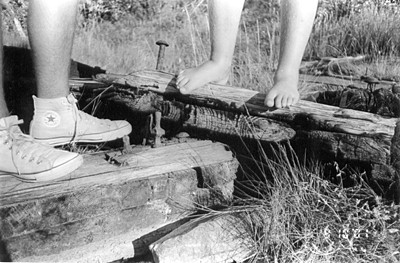 © Anonymous