Ending the Culture of Misogyny Requires Promoting Healthy Masculinity
February 16, 2018
During Ethnic Studies, our class discussed sexual harassment, and many girls, who were only 14, shared stories. These stories involved catcalling, referring to body parts, and being followed. One of my classmates was biking when a man, who was described as in his mid-twenties, started following her and asked for her number. Upon learning of her age, 13, he said, "That ass ain't 13!" A different classmate was on a walk when a good samaritan warned her that somebody was following her. Although these stories don't represent the majority, it is alarming that many people who are so young are telling stories like this. The scale of sexual harassment and rape in America was highlighted this year when millions of women used the hashtag, #Metoo. "Me too" is used by women who have been victims of sexual harassment or assault. The movement—started in 2006 by Tarana Burke, founder of Just Be Inc, an organization that promotes the wellness of young female minorities—gained steam when actress Alyssa Milano started using the Me too hashtag on social media. The problem of rape and sexual harassment is a part of our culture, and we need to act now, during the outrage of the #Metoo movement, to change it.
One reason why men commit sexual harassment and assault is because our culture teaches men that they have power over women's bodies. One professional environment where men repeatedly take advantage of an uneven power dynamic is Hollywood. The #MeToo movement was revived when more than 82 women came forward and exposed producer Harvey Weinstein for serial sexual assault and harassment. The number itself makes evident that he had been harassing people for a long time, and is an example of how our culture has a huge problem. It is obvious that more than 82 people knew about his activity, however he had been unchecked for more than 20 years, since he started to amass power. Many people were either uncaring, or too scared to expose him. Maybe these people believed that Weinstein was actually doing good by supplying jobs to these actresses in the first place, or maybe they just didn't want to say anything and risk their own careers. More recently, in Hollywood, actor James Franco was accused by five women of sexually inappropriate behavior, and taking advantage of young, aspiring actresses. His accusers stated that they were taken advantage of while trying to advance their careers. One way to solve this problem would be to be more inclusive and put more women in charge. In most working environments in America, men are in charge. However, if people were to stop excluding women from positions of power, then women who are lower in the hierarchy and who are trying to establish themselves, would be less vulnerable. Those women in positions of power would be sympathetic and supportive.
In the past, most of our efforts to prevent rape have been focused on teaching the victims of rape self defense, but the only way to cure misogyny is to teach the potential perpetrators. An organization that has started to effectively treat misogyny is Men Can Stop Rape, or MCSR. MCSR teaches young men and boys that being masculine doesn't have to mean, "displays of physical and emotional toughness, the drive to win at all costs, and expressions of aggressive behaviors and attitudes." Being emotionally unfeeling and aggressive doesn't contribute to society. Instead, men should be aware and assertive. Aggressive behaviors don't solve anything, and can make conflict end in disaster. An example of aggression being hurtful is when President Trump threatens the already unstable supreme leader of North Korea with nuclear weapons. Trump's aggression has nearly started the third world war. He is an example of a man who embodies toxic masculinity and has also shown this with his poor treatment of women. MCSR is "promoting healthy, nonviolent masculinity…" that inspires young men, "to feel motivated and capable to end men's violence against women." Men should be allies to women and not have to be aggressive to be considered strong people. Being aggressive means to actively seek out violence. We need to redefine what it means to be strong.
By teaching young men and boys about healthy masculinity and consent, we can end rape culture at its source. Teaching women self defense will not stop men from trying to rape; but teaching generations of men to not rape will succeed. The issue of preventing rape is similar to the issue of gun control, because we shouldn't be arming everybody to protect themselves. We should be changing this culture, so that misogyny doesn't infect men in the first place.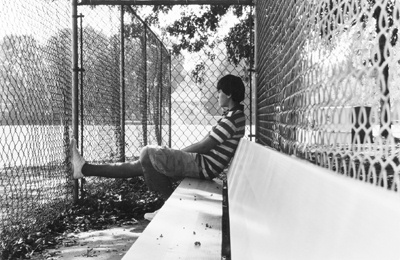 © Kyle W., Pompton Plains, NJ