5 Ways To Keep An Open Mind
July 19, 2010
"A mind is like a parachute. It doesn't work if it is not open."
--Frank Zappa

There are really not many things I dislike more than a narrow minded, ignorant, hate spewing person. They judge people for what they look like, laugh in the face of extreme and outrageous beliefs, and belittle those who think different. Doesn't sound like someone who you'd want to hang around with, huh? Keeping an open mind allows you to make new friends, try new things, and let the creativity flow.

Number One: YES, YOU CAN BE WRONG
"I am so clever that sometimes I cannot understand a single word of what I am saying." –Oscar Wilde
One phrase I love to use is: "Because I'm always right." And I know I'm not alone. I hate to admit it, but I'm not always right, and neither are you. If you accept that what you think, no matter what you believe, is not always the correct answer, then you will see the world in a whole new light. Example: you think it's wrong to be a vegetarian because it "overpopulates the planet", then stare deeply into the eyes of someone else's thoughts and realize there is another way. If your friend tells you the sky's blue but you're dead set that it's neon pink…yeah, you may want to get your eyes checked out. There are two sides to every story, and you'll never know what's right till you've heard them both.

Number Two: STOP THE JUDGMENT, START THE MOVEMENT
"The surest way to corrupt a youth is to instruct him to hold in higher esteem those who think alike than those who think differently." –Friedrich Nietzsche
I wear satin lined cloaks and floor length skirts. The little town I live in is full of strictly raised, narrow minded idiots who glare at me when I walk by. And when they age, they will raise their kids strictly and they'll grow up to be narrow minded idiots who glare at MY kids when they walk by. Generation by generation, we're raising our children to accept what's ordinary and reject what's different. And why is this? Because we suck. Yeah, I said it.
Judging people based on what they looked like (i.e. I'm a freak 'cause I didn't buy my backpack at Aeropostale) is bad. It's stupid and ignorant and you're going to live a crappy life if everyone you know dresses and acts the same. So, y'know that kid who wears the same jeans every day? Yeah, they might be a little smelly, but it doesn't make him a bad person. And that old lady who wears the sickly green muumuus? Sure, she might look like a garden hose, but she probably has a ton of interesting stories. Realize things are rarely what they seem, and the human race is no exception.

Number Three: WORDS ARE YOUR FRIEND
"I never travel without my diary. One should always have something sensational to read in the train." –Oscar Wilde
Ah, books. I know people who loathe reading, hate it almost as much as they hate people who are weird. Ah, words. I know people who adore reading, love it almost as much as they love to be wild and free. Haters of the novels are haters of having an open mind. They see the words and run for their cell phones, smell the pages and run for the nearest Abercrombie (well, it'll definitely mask the scent). Books will tell you everything. Okay, yeah, I'm going to be someone who writes said books one day, so I guess my opinion is a little biased, but they will. Books are what other people are thinking, they're others' dreams and opinions and nightmares and premonitions. When you read someone's writing, or look at someone's paintings and sketches, you see the world through their eyes. This is exactly what gives you an open mind (just make sure you pull away from their eyes with pupils of your own).

Number Four: THESE EYES WERE MADE FOR SEEING…
"In this completely sane world, madness is the only freedom." – J.G. Ballard
Where I live, people stay here forever. They are born, grow, get married, have kids, retire, and die in the same town, in the same HOUSE. I look at these people and shiver: how the heck do they do it?! Imagine seeing nothing in your life except for the same Wal-Mart, the same 7-11, the same dinky mall, the same everything! Think about never traveling and never seeing the world, just staying with what's familiar and safe. As Helen Keller once said, "Life is either a daring adventure or nothing." If you don't look at anything, you can't see it. If you don't hear something, you can't listen to it. And if you don't try something, you'll never learn it! To travel the world is to see EVERYTHING. You see the cultural differences, the religious opposites, and the "insane" languages. You learn to be open to everything crazy, and to expect the unexpected.

Number Five: DABBLE IN WITCHCRAFT
"Don't live down to expectations. Go out there and do something amazing." –Wendy Wasserstein
Okay, it doesn't have to be witchcraft. Maybe you've never been able to swim; therefore you should take swimming classes. You suck at painting; go out at sunset and sketch away. You're totally anti-religion; pick up the Bible or pull up a web-page showing the Buddhist's Four Noble Truths. "If you only do what you've always done, you will only get where you have always gotten." (Author Unknown). When you know the rules, you see the game in a different light. Life is the same way. Try new things, forget about what you're supposed to be, and live a life without boundaries.
Because you can't keep an open mind in a closed box.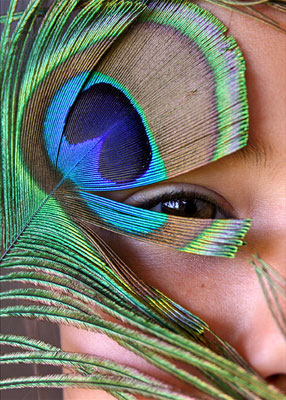 © Rachel P., Wailuku, HI