Pulling Our Weight
MAG
April 23, 2008
Superskinnies, wannarexics, and emaciated celebrities dominate the media: Nicole Richie, Victoria Beckham, the once-curvy Katie Price (formerly known as Jordan). Some of the highest-profile women in our society are wasting away before our eyes, and we plaster their pictures on the cover of sensationalist magazines with captions like "Celeb drops to size zero."

Protruding collarbones, angular ­elbows, flat chests, and knobby knees are seen as signs of strength. The ability to starve oneself is considered admirable, and anorexia is glorified.

These women, constantly under ­media scrutiny, are in obvious distress. Many are dangerously thin and in need of medical intervention. Though it may be through no fault of their own, one thing is certain: they are not fit to serve as role models for young women.

As someone who has battled anorexia for most of my teen years, it saddens me that the media constantly promotes the mantra "if you're thin, you're in." I now realize that there is so much more to life than achieving a ridiculously low number on a scale.

We are living in an era when women are finally recognized, valued, and empowered. For the first time in history, women have an equal opportunity to mold the future of this planet. It's time we stepped back and gained some perspective. We need to think outside of the skinny, superficial diet box.

Let's encourage girls to explore their talents, follow their dreams, and reach their potential as the fantastic individuals they are. Let's look up to real women. Let's focus on women who embrace who they are, who demonstrate that girl power knows no boundaries, who achieve their goals, who live life to the fullest.

Ladies, girls, young women, sistas, our worth is not determined by our dress size. How can we make our mark on this world if we are dizzy with hunger? How can we pull our weight if we're barely there? How can we explore the wonders of this world if we are consumed with counting calories? It is in our hands. Let's get real and embrace the beautiful beings we truly are.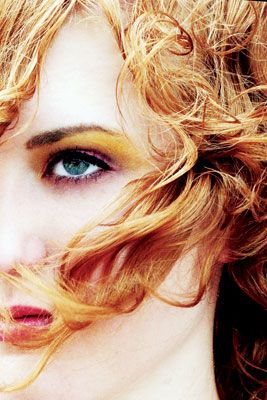 © Rebecca B., Marietta, GA