Reflections on the 2017 Women's March
January 23, 2017
"We need a leader, not a creepy tweeter!"

This was one of the many chants that roared throughout New York City streets, just one day after President Trump's inauguration. I remember laughing as I shouted this along with fifty other pink-capped men and women, wondering how the world could've possibly gotten to this point in time. I signed up for the march expecting a chorus over Trump's insults, pay wages, and women's rights—and got a whole lot more. There in the city, signs were hoisted into the air bashing Trump's environmental beliefs, misogyny, racism, heterosexism, tax issues, and of course, his tendency to spew all this out through his Twitter feed.

The atmosphere was warm and energetic, despite the cold nipping at our feet as we inched along the streets. In all honesty, I absolutely abhor going into the city—I belong in an isolated patch of forest, or a quiet country lane. But standing shoulder-to-shoulder amongst masses of passionate, smiling activists made me swell with pride. This really was America, I realized; to the right of me, a mother nudging her daughter's stroller into the crowd while chanting a slogan, a father lifting his son onto his shoulders, the boy thrusting his poster into the sky with sheer triumph. I've never felt more included, or more in harmony with my surroundings.

Out of all these millions of people marching around the world, I have high hopes that some of them will take a step further, and continue to show up at upcoming rallies, and pitch in with their cause. That said, it is true that the majority of those shouting through the streets were working-class Americans, and life demands them to return to their daily work routines. Some may fall back into pattern, feeling that their single act of resistance was all that they could muster. But, simply put, I doubt that many are going to do this. By coming together, voicing our emotions and opinions, we've gathered courage and inspiration for more to be done.

Slowly, but surely, the world has been waking up. Donald Trump's presidency will crack the fog of indifference, of apprehension that has taken hold of so many of us in recent years. The Women's March was not just about women, or about Trump—it was the start of a revolution for all. It was about breaking past the narrow focuses on labels and numbers, to be replaced by the worldly concerns of all individuals. This was an emotional experience more than a political one. This was for the climate change activist chanting in unison with the feminist, the child screaming for peace alongside the couple calling out for love. This event brought the world to a moment of clarity; that division has been made necessary for unity to occur, and where it only takes one man to spur a world-wide revolution of millions for change.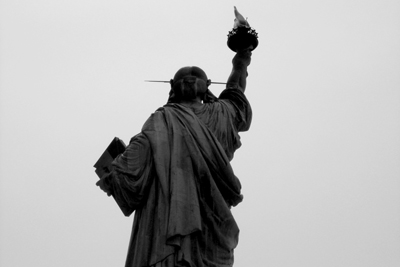 © Conor G., Harvard, MA