The Rhetoric of a Valedictorian Speech
June 18, 2013
Before becoming an American professor, a media theorist, and a cultural critic, Neil Postman had once presented himself before his fellow graduates in a single speech. The basic standards of a good speech are that of which does not instigate subsequent flight of vile vegetation, nor that of which induces yawns from its audience. In his graduation speech, Postman demonstrates the effectively of speech, employing methods of rhetorical effort, while also utilizing charm and anecdote to construct his persuasive language.

In order to fully analysis Postman's speech, it is necessary to examine the expenditure in which he demonstrates the Greek techniques of rhetoric, particularly ethos and pathos. Ethos is often the primary element of rhetoric, as it must immediately secure amicable relations between the speaker and the audience, in order for the subject to traverse successfully. Neil Portman establishes his character simply by not talking about his character, whatsoever. Instead, he goes on to orate about the significance of the Athenians versus the German Visigoths. In elaboration on the Athenians, Postman appeals to the audience's appreciation for moral character. As the audience would not intentionally view themselves among the like of the Visigoths, while Postman boasts of the educated and sagacious virtues of Athenians, he indirectly complicates the spectators, who aligning themselves for the better.

Additionally, Neil Postman indubitably uses quirks and narratives to apply charisma in his valediction discourse, an element found in any efficacious speech. "What you require first and foremost, of any speaker is brevity." In this verbal streak, Portman identifies and sympathizes with a communal source of exasperation found in any audience, circumlocution and staid time-consumption. Furthermore,
"My father-in-law was one of the most committed Athenians I have ever known, and he spent his entire adult life working as a dress cutter." In providing this anecdote, Postman establishes a familial charm among the audience members, pertaining to the general appreciation for filial respect and affection. Also, he creates a sense of obtainability, in which anyone, regardless of class or education, can become an Athenian.

Conclusively, ladies and gentlemen, let's review. Neil Portman meritoriously inveigles the ensuing congregation of faculty, parents, guests, and graduates by clever means of rhetoric and charm. Postman efficiently plays Greek on Greek, using Aristotle's Rhetorical schemes to fluctuate the audience with appeals of the Athenian, for whom they "align themselves with the spirit of." Postman allows history to appear elegantly archaic without sounding self-bombast, while also providing contemporary anecdotes and quirks to relate as the common-man to the masses. Thus, Neil Postman hypothetical language emulates the art and science of effective speech.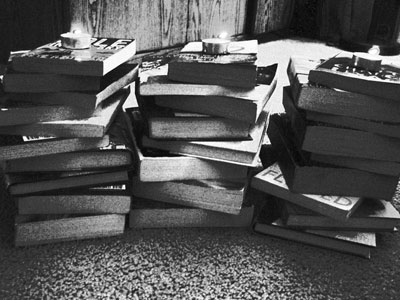 © Alexis R., Clarkdale, AZ