p.s I Love You, What's Next?
December 10, 2018
I've always dreaded waking up in the morning, dragging my body to school. Until, I met him. You know when you get on a roller coaster and there's a really big drop? That's how he makes me feel, but not in a bad way. The getting butterflies in your stomach way, or when your little brother punches you in the stomach feeling. His smile makes me smile, his blue eyes resemble the ocean, where I can be lost at sea and he can rescue me. I never thought I would fall for a smile, brown hair, and blue eyes, but that's the best part about it, is that it was unexpected.
Walking to meet him is my favorite part of the school day, every class period I anxiously look at the clock to see when how much longer until passing period, where we meet at my locker, and his hand brushes my hair back from my face, and we both smile at each other. But, that's not what I want to tell you about. I want to tell you about my favorite part of my day, after dragging myself out of bed, and after meeting "him." Which is going home and training in nature. Where I can be alone. Where there is quiet. Where I have a moment to think without anybody's influence.
My parents always told me to follow my dreams, like every other typical parent, but what if I can't make it? I shoot to high and I miss the target, that's it? What's after that? Just that's it you failed try something new? My fear is failing at what I love, running. It's always came so natural to me, just run as fast and hard as you can, but that's not enough to be where I want to be. I have to sacrifice. Sacrifice my eating particular foods, doing certain things, but thats okay. It's just a lifestyle. Although, I'm still nervous, but thats okay.
When I'm on the start line for a race I forget all of the fears I had before, all of the sacrifices, and all of the hard days, and it just flows. It all comes together to create something great, which I didn't realize until a few days ago. Never give up, because I learned if you're scared of failing, your probably going to fail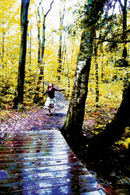 © Heather C., Chicago, IL