Wandering Soul
MAG
July 20, 2010
Sometimes I like to wander while the whole house is asleep. I don't really wander in the sense that I move around; my body stays in one place and I let my soul do the wandering. The world is such a carnival at night. The streets are filled with somnambulant souls, and they dance together, rejoicing in the rich pleasures that sleepers miss, getting drunk off the stars. I do that sometimes. I can't help but stare at them through the darkness of my window, their beauty too much for me. Indulgence in such an intoxicating pleasure as looking at them can only be occasional.

But if ever I feel empty, hungry, lonely, I wait until the whole house is asleep. Until the whole world is snoring except for the dancing souls. For gazing at the stars is enough to fill one's body forever, to satisfy one's heart as only true love is thought to do.

So I lie, the sleepiness conflicting with the exhilaration I experience when I look at those stars, and this sensation of conflicting feelings becomes such that I am too afraid to fall asleep, too afraid of losing touch with such magic forever. The dizzying pleasure I feel in the wee hours mirrors that of having butterflies in my stomach.

You may think me crazy, and I do not disagree, but I blame this on the moon. It can make a person mad if he stands directly under it. And so I've surmised that my house was built directly under the moon, that the moon must use its entire white glow to bathe only my house with light. But I am the only one who is affected by it, alone without anybody with whom I can share this secret pleasure, except the stars.

And when the time comes that the rich darkness of the hours makes me delirious, I slowly slip out of consciousness, and my soul tiptoes out of my heart so as not to wake me, and slips through my window. And my body sleeps. And my soul wanders.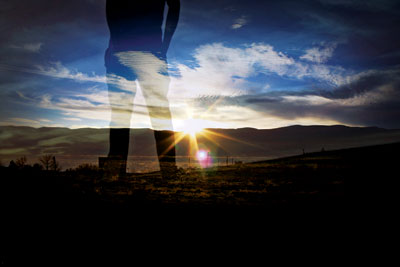 © Ezekiel R.