Destroying Memories
August 26, 2010
I was taking a walk outside my grandparents house today when I noticed a construction team across the street. At first, I didn't think it was anything new; just another park or recreation site being built. To me, it wasn't anything to sneeze at. But then I realized just where this construction crew was, and on what property.

You see, when I was little, I lived with my aunt and the rest of my relatives in a very small house in the suburbs. No, it wasn't amply built, but it did have adequate room enough for each person. There were 7 of us, with only 2 bathrooms, which didn't make for easy living. So my cousin and I, once we became close enough to go outside and play with one another, sought out friends to be with when we wanted to get away from the enclosed spaces of our existence in that house. That is how the neighborhood club was built. We found 9 kids in the neighborhood, which was really only a little street, who were also bored with their penniless lives. 3 of those kids lived in a large house with a very big back yard that stretched into some wooded area.

We all made a place in the back of those 3 kids' house. It was in the cover of a lot of trees and consisted of a picnic table, some chairs, an old and unwanted rug, and a sign that said "No Grown-ups Allowed". Every day we would play around and just hang out in what came to be known as "Our Hideout". There was a path that we could all meet at when we didn't want to go through their back yard. It was in the very back of the neighborhood, behind a dead end that used to connect the street we lived on with another neighborhood next to us. The path had a lot of trees and other foliage surrounding it, making it the perfect way to sneak past people. The oldest of the 3 kids who owned the back yard Our Hideout was in was named…let's just call her "Allison". When one of us wasn't allowed over Allison's house but could go anywhere else in the neighborhood-which happened often-they would take the scenic route to Our Hideout, which was the path I was talking about earlier, and meet up with everyone else. There were a lot of memories in that place behind the huge house across the street.

Which is why, when I was studying the construction team from the top of a tree in my grandparent's front yard, I was suddenly brought to tears. They were renovating the house, trying to make it "better" so that they could sell it! "Allison" and her family moved out a few years ago due to some domestic troubles, and the people who bought that house afterwards were doing some sort of "flip this house" thing. The only problem is, they weren't making it better. It was already as good as it could get because we, the children of the neighborhood, had made it that way. They were destroying all of our memories that had been brought on by the production of that club.

As I contemplated all of this, I realized that even if they were renovating the house and changing the yard and doing all kinds of things to make it "better", they wouldn't be destroying the memories. They couldn't because it's not the place that makes the memories, it's the people. So I have all the power to keep-or annihilate-the memories of "Allison", the kids of the neighborhood, and Our Hideout.

Even if I would rather them stop the construction on that house across the street, I know that I'll always be able to relive the experiences we all had. And if I can do that much, I will never be destroying memories.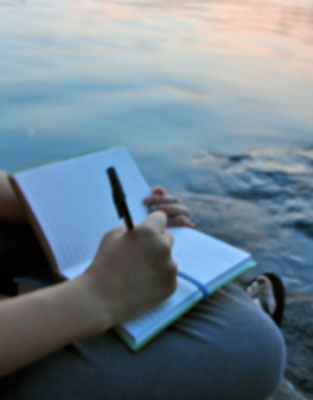 © Grace K., Port Washington, NY