Don't be such a critic
December 26, 2011
When we are young we learn by example, our parents are our role models and the way they behave is burned into our memories and we start to rely on these behaviors to fit in this complex world of ours.

So when one has an abusive father they will act differently than one whose father is gentle and loving, when one has no family and is an orphan will act differently than one who has a parents and relatives and is cherished and adored, those are few from many examples.

But us people we criticize a lot without thought about what is really going on in those specific peoples' lives and minds. We truly are blind from what is outside that tinted glass blocking us from reality. We pretend as if we understand and know everything, a person that's genuinely wise will admit when he honestly doesn't know somebody and is just presuming what they are.

What gets to me are critics, they judge without regarding what's actually going on around them. And these statements that they make can affect others and can cause either pain or bliss. I have seen it through my own eyes how people react to these remarks, most are painful, and they try hiding their feelings with a fake laugh or a sarcastic smile whilst underneath the bogus there is a heart that is aching.

As Charles Darwin said "The survival of the fittest" but to be on top doesn't mean one has to be cruel and sabotage other lives for their benefit. We must be human and treat others the way we want to be treated. Life is full of sever issues but you don't have to be the one that caused it rather be the one do end it. Don't verbally abuse others, verbally commend them.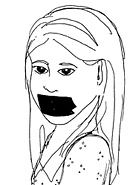 © Liza M., Vineland, NJ