Write or Explode
October 6, 2012
I write because if I didn't I would explode. Writing is how I express my emotions. How i tell stories without really telling anyone anything. How I share my secrets in confidence. Yes I guess most people would just talk to someone about there secrets and such. But there are just something's I can't say directly. So all the emotions, secrets and everything would build up and I would explode. Like a super piñata. I would burst into a billion little pieces and no one would be able to put me back together.


Without writing I would be a mess. Writing is my escape. When I write I get lost. This isn't the bad kind of lost like "Oh no hug a tree and wait to be rescued." No this is a good lost. A lost where I find myself in a new place, Away from stress, Away from the rest of the world just me and my characters in our own world. By now some of you reading this will be thinking "Wow , someone please admit her to a mental hospital." But we all have escapes and passions and when you really get down to it and express yourself about them, you will sound pretty insane yourself. When I write I guess I am a little insane.


My true feelings come out and I don't hold back. I just put the pen in my hand and let my heart flow on to the pages. So yes my writing is very personal. But in my mind that's the way writing should be. I get a sort of 'nervous' when people read my writing or when I read it to them because I'm sharing my life and true feelings with them. Maybe not nervous but excited. I'm not quite sure what it is. But it's a good feeling and I absolutely love it. Writing is my escape, my passion, my expression, writing is my life.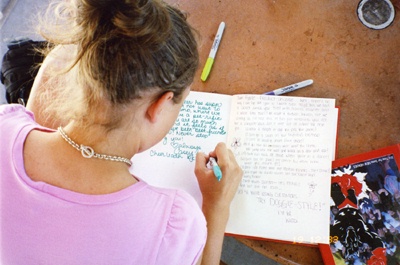 © Jessica S. Pheonix, A