Ramadan's End
MAG
It's 5:30 a.m.;
I see a thread of light as the sun begins to rise.
We wash and get dressed so that we are pure for prayer,
jump in the car and listen to the holy book on tape.
20 minutes pass ... it's time to place the head cover,
the hijab, on my head.
I reach the mosque where
Thousands and thousands of Muslims are gathered,
Different colors of different cultures
on the holiest day in Islam.
As the hours pass,
more and more Muslims gather in the mosque
ready to pray to Allah,
women wearing their hijabs and following the lead of men.
One hour passes and Muslims are still entering the holy house of God.
Silently, I wait for prayer.
The man up front, the Sheikh,
dressed in white,
with a long beard, faces east, the kiblah, toward Mecca.
He leads us,
his voice filled with meaning and compassion
as he begins to read the holy book of Qu'ran.
His voice echoes throughout the mosque as he reads.
We repeat his words in our hearts and minds;
we follow the prostrations of the Sheikh ...
prayer is over.
We shake hands with our Muslim brothers and sisters;
hundreds and thousands of Muslims leave
different colors of different cultures
on the holiest day in Islam.
We gather with families, receiving money and gifts;
we eat one big feast representing the end of Ramadan and fasting ...
How strange to think that Ramadan is over, fasting is over;
special dinners with families for this holiday are over;
watching our Muslim brothers and sisters making pilgrimage
to Mecca and around the holy house of God, The Ka'bah, is over.
This time during which many have learned to deal with the same hunger and thirst that other people every day deal with, has passed.
But next year will come, and Muslims around the world will begin the fasting of the holy month of Ramadan.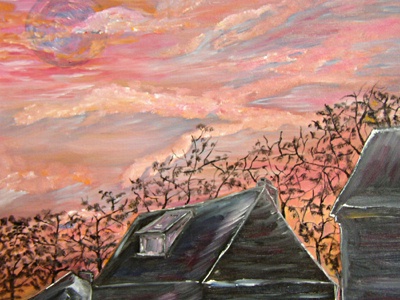 © Lauren M., Scotch Plains, NJ