Growing Pains
MAG
"Now remember what I told you," myfather said, stepping out of the truck.

"Yeah," I responded withthe slightest hint of sarcasm. "Whatever, Dad."

I saw itbeckoning me, calling my name. I stood in awe of what was before me ... such amassive thing. How was I going to do this? My captivation ended with my father'sprod, "Don't just stand there, get to work."

I walked over to mymachine and climbed into the cab. Mine, I thought. I am qualified to run this. Ireached for the key and the engine of the Swedish-made Valmet Skidder roared tolife. Okay, I thought, that's a good sign. With that cheerful thought, I rolleddown the trail and started my first day as a skidder operator.

The firstfew hours went by uneventfully, which was fine with me. I fiddled with the radiountil I found a station sounding an Emergency Weather Forecast: "There isnow an emergency thunderstorm warning in effect for most of Bayfieldcounty."

Just then it started to rain. The fact that my day hadliterally clouded over was depressing, but I continued working. As I decided thatit couldn't get any worse, the sky was split by a gigantic bolt of lightning.I'll be damned if I'm working in this! I said to myself. Remembering what myfather had taught me about electrical storms, I finished the pile I was workingon and headed for the main logging road. I turned my head and saw my fatherworking in his machine. My head jerked back as I heard a particularly heavy thudagainst the window, but saw nothing as to the source of thesound.

Immediately sensing something wrong, I turned to see my bucketimpaled on a stake. Recalling what my father told me, I secured the now-damagedbucket to the back of the machine. I sat there for a moment as I figured out thecause of the broken fitting - operator error. I turned off the engine and climbedback over the machine to confirm my belief. After a short examination for thesource of the oil leak, I decided I couldn't fix it. I jumped off my machine,hanging my head as I approached my father.

He stopped what he wasdoing. "I need help," I said meekly.

"You know why thishappened, don't you?" my father asked. "It happened because you weren'tpaying attention!"

I lowered my eyes from my father's angry face."This storm's getting bad," he said with the slightest softening intone. "Let's head out."

I climbed into my broken machine andfollowed the trail back out to the road. I finished my day turning the same keythat had so empowered me, and stepped out into the rain, into the cold.

Iclimbed into my father's truck and we drove off. He didn't say a word, but thesilence tore at me more than any words could. The confidence and enthusiasm I'dfelt at the beginning of the day had utterly vanished. To me there was nothingleft but the silence, which was colder and far harsher than the storm that ragedoutside.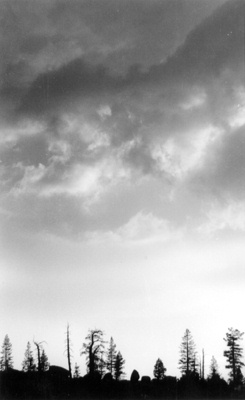 © Steve S., Marblehead, MA