My Personal Hell
March 27, 2009
The bell at the end on first period rings. To me it sounds like funeral bells; like the bells one would hear descending into hell. I am the last to leave, I'm in no hurry to get to my class, the class I fear will ultimately be my demise. The classroom directly across the hall. Algebra class. I have just three minutes before the formulas would begin pouring mercilessly into my head like a flood; a vile muddy flood laced with nuclear waste.

It was more than the stupid formulas I didn't understand, more than the crushing boredom as the numbers stared at me accusingly as if to say that I was stupid and this was all so simple. No, it was the overwhelming stress and the urge to break something…someone, that resulted from all these things. That monster inside that awakened as the equations and terms went in one ear and out the other, the knowledge so easily attainable to the other students refusing to take root in the fertile garden of my mind, so taken with my beloved literature. If I could grasp writing and reading as easy as breathing, why couldn't math be easy too?

And how ironic, now, that I'm sitting here writing this in my math notebook, in the middle of math class. And here comes the teacher, wondering what I'm writing, no doubt. What a lark, to see the look on his face as he soaks up my hatred for his beloved subject!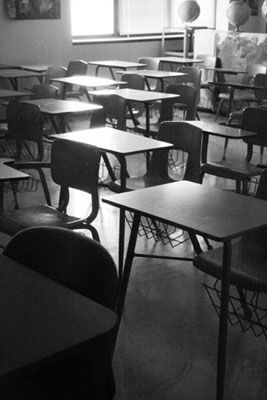 © Sean C., Princeton, IL