Pro Football Player Rich Mauti
MAG
Rich Mauti is a former NFL player for the New Orleans Saints and Washington Redskins. He was able to squeeze me into his busy schedule for an interview.

Where were you born and how long did you live there?

I was born on Long Island, New York and lived there until I was 17 when I went to Penn State University.

Did you play football as a child?

I started playing in seventh grade. There were a lot of maple trees in my neighborhood and in the fall, when the leaves fell, we would stuff our jackets full of them to make football pads. We would pile the leaves in each end zone and play tackle football. When we got to the end zone, we would dive in, which was so much fun.

How old were you when you decided you wanted to play professional football?

My favorite sport was actually lacrosse, which I played in high school and college. I had a scholarship to University of North Carolina and was going to play lacrosse there, but then I was offered a full football scholarship to Penn State, which I accepted. At that time, anyone in their right mind wanted to play football for Joe Paterno and Penn State. I didn't start thinking about the pros until my junior year when the scouts started sending letters.

You didn't go to college in Louisiana, so what made you move here to play for the Saints?

I didn't get drafted. My philosophy was to pick the worst team in the league and go there to have the best chance to make it. I just wanted an opportunity to play, and I hate to say this now, but I picked the worst team in the league - the Saints. I signed a free agent contract with them and came here.

How old were you when you started playing for the Saints, and how old when you stopped?

I was 22 when I started and I played seven years with the Saints. The year before I retired, I played for the Washington Redskins, so I was 30 when I stopped playing professional football.

What position did you play and how often did you practice?

I was a wide receiver, but I played on all the special teams - the coverage teams, the third down and short yardage situations as a wingback, and a wingback when we were on the goal line.

During preseason, I practiced twice a day. In-between we had meetings, so I did football-related things 15 hours a day.

Did you ever have any serious injuries?

Yes, I broke my collarbone twice. I've broken every finger at least once and my thumb a couple of times. I broke my humerus bone, which was very painful, and I had surgery twice for ruptured discs that ended my career.

What do you like best about Louisiana?

I like that I can fish or play tennis every day because the weather is great. I love the outdoors. I love the food because I grew up in an Italian family so I love to eat. I love the people, the culture, the way they're friendly and hospitable.

What do you like least about Louisiana?

From June until October I hate the intense heat and humidity. That's the only time I get homesick and want to go back to New York.

Would you ever leave the state?

I think this will always be home. I think we will always have a presence in New Orleans.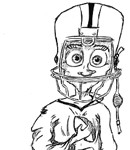 © Steve B., Hull, MA