Virginia Walker: Educator of a Lifetime
August 1, 2011
Whenever I walked into my third period English class my mind was effectively blown. The teacher, Mrs. Virginia 'Ginny' Walker, filled the entire room with her vibrant energy and smiles. She personally edited every writing piece we gave her and then talked to us about why she had changed things and how we could improve our writing. I never walked away from one of our interviews unhappy because when she made changes she thoroughly explained it and gave you the opportunity to argue why it should be kept.

She was the first teacher to encourage us to publish our pieces, and I never would have built up the guts without her. In fact, her enthusiasm was so contagious that I began to submit my stories without her reminders. Mrs. Walker's classes became the highlight of my week. I can't describe the satisfaction I gained whenever English class started or the disappointment that boiled in my stomach the minute it ended. I never wanted the school year to end.

Her teaching methods were new and fun; kids actually wanted to participate. Her library was stocked with the best books, in the widest variety, possible. My writing skills improved and I started writing different genres. She motivated me to try my hardest, an ability that has further served me outside of her class. She was zealous, continuously giving the impression that she had found something she loved to do and was having a great time teaching you. It made you happy to be taught.
It wasn't just her classes that she affected, either. She was the teacher that submitted Blue Ridge for the 'School to Watch' award, raising its status as a top-notch middle school. The entire seventh grade was moved by her cheeriness. She's a role model, a dedicated educator, and one of the best English teachers I've ever had. She's not just the educator of the year; she's the educator of a lifetime.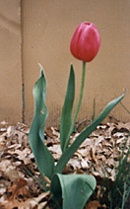 © Ashlee R., Plano, TX