Ever Bonding
May 1, 2010
"A friend is one who walks in when the rest of the world walks out."
-Walter Winchell

His favorite color is red and black. His favorite animal is a dog. His favorite band is Shewlk. His favorite sport is wrestling. His favorite song is Dominate. His favorite city is Boise. His favorite movie is the Hangover. His favorite television show is Family Guy. His favorite football team is the Broncos. His favorite thing to do is hang out with friends. His name is CJ and he is my best friend.
We met for the first time in sixth grade at Cathcart Elementary. He grew up in Boise, Idaho and had just moved to Snohomish, Washington recently. When he had first showed up to my class during the middle of the year I was afraid of him. Here was this kid who was as tall as sky scrapper, with white blond hair who mostly kept to himself. I couldn't tell you anything about him other then what he looked like. I kept my distance because I thought he was trouble. Turns out he was. He got into trouble left and right. CJ was a something called a bad boy, bad meaning harmful and boy meaning a young man. He was reckless, rude and mean to everyone around him. And all I wanted was to know him. Because even though I was terrified of him another part of me wanted to understand why he was like this. What I didn't know was that in two years I would know him.
When eighth grade started the only thing on my mind was having fun and getting out of here. School was more of a chore the something I enjoyed doing. I got up early every morning, went to school and came home did homework then re-did it all over again the next day. Sure I got to see my friends but all I wanted to do was go on summer break again. Life then was more carefree then and school was in the way.
CJ and I had lunch and fourth period together but we didn't really talk or anything. Some days he would ask for the directions on what to do on a paper and that was pretty much our conversation of the day. It wasn't until around November that we got to talk when he sat in front of me in fourth period. Each day we talked a little more. He was still mysterious which just made me want to talk to him. Again, I was interested in getting to know more about him. Sometimes I would text him at night, but we mainly just talked in school. Then everything changed.
"A friend is someone who is there for you when he'd rather be anywhere else."
-Len Wein

Life became heavy and school, was no longer in the way, it became my way out. I was a tangled mess, I had no one, my friends had no clue and my parents wouldn't talk so I felt alone. Then I talked to CJ one night because I couldn't take the not feeling anything anymore. I thought maybe if I just told someone, each day wouldn't make me want to die a little more.
When I told CJ that night I imagined that everything would get easier but it didn't. During this part of my life I had someone I could talk to who understood what was happening. I could call him and be balling my eyes out and he would still there for me. He was there for every thing and I could tell him anything. CJ became a huge part of my difficult experience and later one of the best things in my life.
"A friend is someone who knows all about you, and loves you just the same."
-Proverb

When you meet someone who changes your life you learn that inside of your growing friendship is an ever-bonding love. CJ is an amazing guy who I never thought would be they're when I needed someone the most. He turned out to be a superhero, who transformed to someone I never thought existed until I met him. I love CJ he is my best friend. Personally, I can't imagine my life without someone like him.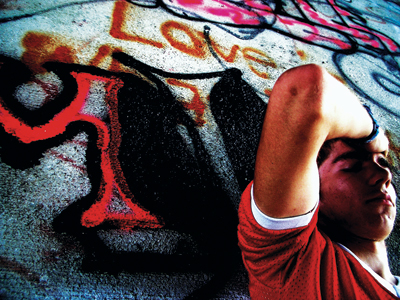 © Sindha A., Champaign, IL