George Carlin-The Voice of the Voiceless
October 4, 2012
History has always had its fair share of comedians, all of them sporting their own unique flavor. Even today, the art of comedy is an unbound genre that, while it may seem easy, can be very difficult to pull off with ease. But for George Carlin, a killer, side-splitting performance was just another day.

If there was one thing that separated Carlin from the others, it was that he had no fear. For him, their were no boundaries. One of his most infamous shows, titled "George Carlin Again!", contained one of the most controversial pieces of material ever to be seen on television. The Seven Dirty Words was its name, and oh, did it deliver. Carlin would spew obscenities like it was commonplace, which, naturally, riled up most broadcasting networks. However, this only added to Carlin's legacy. He became one of the most prolific comedians to ever grace the genre. Combining his fast, free-flowing style with his ingenious wit, Carlin became a thousand voices, shouting a torrent of curses, truths, and most of all, humor. Almost every show he did would grate on the nerves of someone, somewhere. Nothing was outside of Carlin's boundaries. Government, religion, politics. They were all bullets in Carlin's chamber.

One thing that truly separated Carlin from the rest was his stage superiority. Whenever he talked, you not only listened, but watched, too. Carlin would get really into his performances, to the point where you could tell he meant every single thing he said, yelled, or whispered. If you combine is dominance of the stage with his vast array of humor, you've got the ingredients for one of the greatest, if not, the greatest comedian of all time.

Carlin was not just a comedian. He was a philosopher with his words. A true genius of his field. A preacher to a crowd of those hoping to receive the word of Carlin. Every show he ever did, there would always be at least one thing he said that made you go, "Wow, that's true." There was always an underlying message hidden beneath Carlin's side-splitting approach. It was this that made Carlin who he was. It was this that made Carlin the legend he is nowadays. The world will never be the same with his voice.

George Denis Patrick Carlin is one of the most inspirational figures to ever walk the planet Earth. He blazed a trail with his outrageous comedic ingeniousness. There is not a comedian out there who doesn't owe a debt to Carlin. He is my personal hero because of his amazing talent with words, and because he has no chains restricting him. He was, possibly, the most unbound man who had ever lived. And it's comforting to know that I can say I was around when Carlin was still here.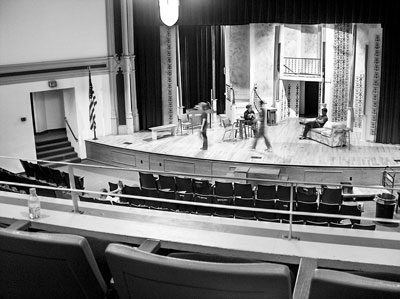 © Sean C., Princeton, IL