Father - Scott N.
MAG
He was my daddy and I was his pumpkin. When I was younger my dad was my hero, teddy bear, and biggest fan. I played with his beard and wore his bifocals when I played teacher. Ten years hasn't changed much between us, although "Mallory" has replaced "Pumpkin" and I have stopped wearing his glasses. He never fails to catch me when I fall or make me laugh through my tears. My dad commits himself to improving the lives of others, working hard, and expressing the love he has for family.

Scott is a support system not only for his family, but also anyone who needs a helping hand. Maybe people find comfort in his huggable body and inviting arms, or the warmth and wisdom in his

gentle blue eyes. Whatever the reason, people often go to my dad for support, and for as long as I can remember, he has willingly made time for those in trouble.

Sometimes friends show up late at night asking for his help, and he always opens the door, makes some coffee, and listens. One night, my dad stayed up with a close friend until three a.m., patiently listening to his friend's problems and offering as much support as he could. I was too young to understand the significance of what he did for his friend that night, but now, looking back, I realize that he was doing something few are able to: genuinely caring for someone other than himself.

In addition to listening, my dad is actively involved in helping others. When my grandma was diagnosed with Alzheimer's six years ago, my dad supported my mom, who often became overwhelmed. To relieve my mom's stress, my dad took over much of the care for my grandma. On Saturday afternoons, he takes Grandma to church, picks her up after, drives her to the grocery store, and brings her dinner. He listens to her repeated questions and answers them as if it were the first time she had asked. "How's your day going, Scottie," she will ask five times in ten minutes. Without scowling or becoming frustrated, my dad repeats, "Fine, Rosy. What about yours?"

Scott is a skilled and hard worker. His weathered hands are evidence of his devotion to his work. The creases in my dad's palms and fingers have been stained black from years of working under the hoods of hot rods and on plane engines. His hands are full of scars from burns and cuts, and his fingernails are often bruised. The joints of his fingers are stiff and achy. His eyes have become weak from the blinding torch lamps and burning metal.

Scott is a skilled mechanic, a rarity in today's corporate world. He models stained t-shirts and oily boots instead of button-downs and loafers. Some consider mechanics a dying breed. For them, computers produce better work faster than manual labor, but my dad says, "To heck with them. I may not know how to operate Windows-95, but Windows-95 doesn't know how to operate my hands!"

Even if others think a mechanic's job offers a meager living, my dad prides himself on being the best at what he loves to do. He works with metal the way an artist works with paint; he bends and twists aluminum, titanium, and iron into intricate patterns that allow planes to fly and cars to run. He can weld beads of metal into metallic ribbons that flow through broken engine blocks and shape simple sheets of steel into car frames or motorcycle bodies.

Growing up, my dad never wasted time trying to become something he wasn't. As a teen, he worked with his hands on any piece of scrap metal he could find. Due to his devotion to his craft, my dad has become one of the most sought-after welders in New England. Although he has been working with metal most of his life, he never finds his work dull; his enthusiasm and drive keep his stiff hands moving.

Scott's hard work and selflessness set him apart, but his immense love and compassion for his family make him a rarity. He values his family above all else and would take a bullet for my mom, my sister, or me. We are his "girls" whom he showers with love every day. When I do poorly in a track meet or cross-country race, my dad never fails to give a laudatory speech on my performance. He also makes it a point to have at least five family dinners a week. This shows how much effort my dad puts into letting our family know he loves us. He stays up with my sister and me whenever we are overloaded with homework.

Scott is the backbone of his family. The love he has for his daughters and wife is immeasurable. My family is lucky to have such a compassionate and loving husband and father.

I am proud to be the daughter of Scott Nielsen, a truly remarkable person.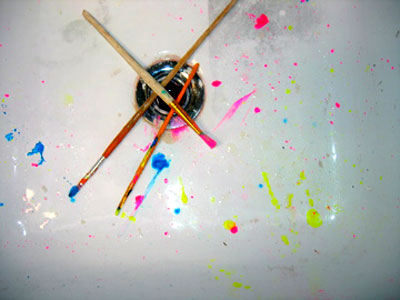 © Anonymous